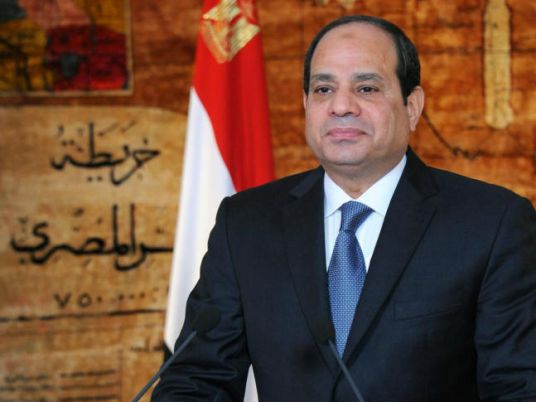 The Egyptian Abdel Fattah El Sisi ranked 44 globally on Forbes' list of the The World's Most Powerful People preceding the former US president Barak Obama who ranked 48.
For the fourth year in row, Russian president Vladimir Putin has topped the list, while the US president elect Donald Trump came in second, one place ahead of Germany's Angela Merkel.
The top ten most powerful people varied between world leaders, presidents, and prominent businessmen, including Facebook CEO Mark Zuckerberg and co-founder of Google Inc., Larry Page.
In 2014, President El-Sisi was chosen as Africa's most influential leader by Forbes Middle East, which ranked the Egyptian president 51st in its annual list of the world's most outstanding figures.
The magazine attributed its selection of Sisi to his outstanding role in Egypt's stability and security, crediting the Egyptian president for fending off civil war and lauding his battle against terrorism since the ouster of his predecessor Mohamed Morsy in 2013.
Arab leaders caught four places on the list. Along with Al-sisi, the Saudi Arabian King Salman ben Abdulaziz, who ranked 16 worldwide and first in the Middle East; while Sheikh Khalifa ben Zayed, the president of UAE ranked 39 globally. The minister of Energy, Industry and Mineral Resources of Saudi Arabia, Khaled al-Faleh ranked 49 globally.
The list also saw the presence of a number of controversial figures, including the leader of IS militant group Abu Bakr al-Baghdadi who ranked 57th, while the Syrian President Bashar al-Assad came in the 63rd spot of the global ranking.
"There are nearly 7.4 billion humans on planet Earth, but these 74 men and women make the world turn." Forbes said in the report.
The Forbes magazine Most Powerful People list is based on four main criteria, namely power, financial resources, influence and impact in several fields.
"First, we asked whether the candidate has power over lots of people, next we assessed the financial resources controlled by each person. Are they relatively large compared to their peers? For heads of state we used GDP, while for CEOs, we looked at measures like their company's assets and revenues," explained the Forbes report.
The report added "Then we determined if the candidate is powerful in multiple spheres. There are only 74 slots on our list — one for approximately every 100 million people on the planet — so, being powerful in just one area is often not enough."