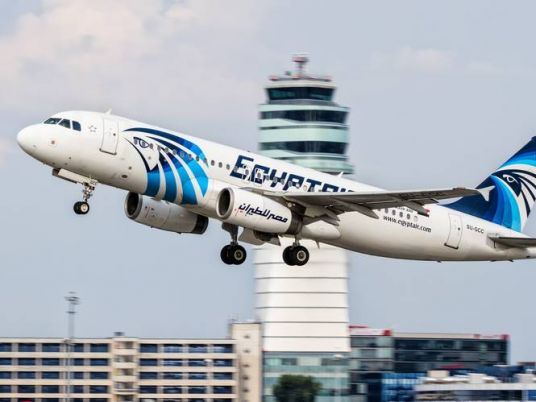 In the wake of the anticipated increase in ticket prices of EgyptAir, the company surprisingly introduces a new service called "Best-Buy" that gives travelers lower prices with only one piece of luggage weighing 23 kg and one 8 kg-carry-on bag.
"The company offered this service two months ago in order to offer cheaper alternatives for travelers and businessmen who frequently travel with fewer suitcases," Dina ElFouly EgyptAir PR manager told Egypt Independent, pointing out that this service includes all international flights.
The news about the "Best-Buy" service provoked anger among some travelers who mistakenly believed that the company has suspended the two luggage allowance service.
Most EgyptAir clients prefer to travel through the company due to its generosity in luggage allowance per ticket as the company permits two pieces of luggage with a total of 46 Kg for the economy class flights and 32 Kg for first class. A Twitter user posted on the company account saying "Confirmation of new baggage allowance in economy long haul flights is one bag. If they don't change, they are definitely losing a customer."
EgyptAir replied to the users' inquiry confirming that the one-luggage service is only one option and he can book his ticket on economy class and enjoy 2 PC with a total of 46 KG.
In a simillar
scenario from
2015, the company has introduced the same service but only for its flights to Europe, in which the client would be able to travel at a starting price of LE 2760 for round-trip ticket including all fees and taxes.
Hesham Al-Nahas the chairman of EgyptAir Airlines said that this service is aimed mainly to revitalize the passenger traffic to and from Egypt and give a good opportunity to travelers
to book their trips earlier with cheaper prices.
In the aftermath following the floatation decision of the Egyptian currency, EgyptAir is set to announce an increase of 35 to 45 percent to the price of its tickets, which will take effect once it is announced, official sources from the company told Al-Masry Al-Youm on Tuesday.
The source added that the increase in prices is in proportion to the size of expenditures and revenues and it will vary according to the class and timing of the booking; and whether it is on normal days or in peak seasons.