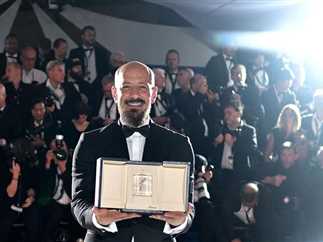 Egyptian director Tarek Saleh won the best screenplay award for the "Boy From Heaven" movie, at the end of the 75th Cannes Film Festival at the Palais des Festivals in Cannes, France.
In a speech after he received the award, Saleh said: "I dedicate this award to young filmmakers in Egypt hoping they raise their voices and tell their stories."
The film stars three actors are of Palestinian origin: Tawfiq Barhoum, and Mohamed Bakry, Makram Khoury, beside Swedish Lebanese actor Fares Fares, Egyptian Amr Mosaad, Egyptian Youssef Salama Zeki, Syrian Sherwan Hajji, Turkish Yunus Albayrak, and Tunisian Mehdi Dehbi, famous for the Netflix "Messiah" series.
Saleh collaborated with the same work team that collaborated with him in his previous film, consisting of: director of photography Pierre Aim, editor Theis Schmid, production designer Roger Rosenberg, and visual effects specialist Peter Hjorth.
Who is Tarek Saleh?
Perhaps we have not heard much about the Egyptian director, so we are shedding light on his life, presenting his most prominent artistic steps during the past few years.
Saleh is an Egyptian director and author, born in Stockholm, the capital of Sweden, on January 28, 1972. In the early 1990s, he was one of the most prominent graffiti artists in Sweden, where he worked as a TV presenter.
He wrote and directed "The Nile Hilton Incident" movie in 2017, which revolves around a police officer investigating a murder case, which at first seemed like an ordinary murder, but gradually turned into a complex crime in which many were involved.
Saleh won the Best Director award for the same movie at the Sundance Film Festival in the US, and was nominated for the Swedish Guldbagge in 2018.
The film was nominated for the French Cesar Award as well in 2018.
He directed a number of films including "Sadness Is a Blessing" and "I Follow Rivers" in 2011, and "Sacrificio: Who Betrayed Che Guevara" in 2001, as well as "Gitmo: The New Rules of War" in 2005, "Metropia" in 2009, "and "Tommy" in 2014.
His latest artwork this year, showing in American cinemas at the present time, is "The Contractor".
The film revolves around James Harper, who was forcibly discharged from the US Special Forces and decided to support his family by joining a private organization alongside his best friends and under the leadership of fellow veterans. The film stars US actor Chris Pine.
"Boy From Heaven", written and directed by Saleh, was shown in the competition as a Swedish film, with a production support of 300,000 euros from Memento International and Art Cinema France.
That movie is about a rural young man named Adam, whose father works as a fisherman.
The young man receives a scholarship to study at Al-Azhar University in Egypt.
During their first day of study, the new students meet the Al-Azhar Grand Sheikh, who suddenly dies in front of his students, so that a battle between his assistants starts to succeed him.