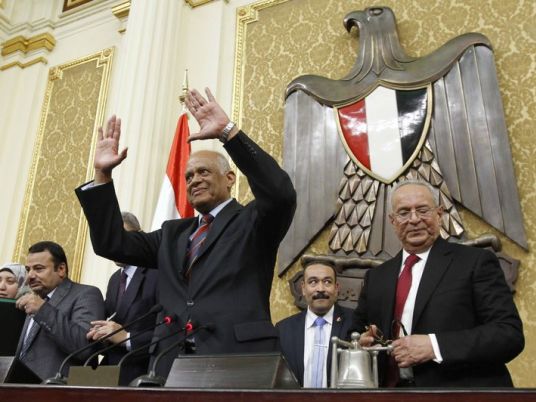 The Speaker of the Egyptian House of Representatives Ali Abdul Aal on Sunday referred a request submitted by more than one-fifth of the parliament members to amend the constitution to the General Committee for discussion.
"I have received a request from more than one-fifth of the members to amend some articles of the constitution. I have referred the request to the General Committee to consider the conditions required for the amendments. I call on the General Committee to convene after the session," Abdul Aal said during the general session on Sunday.
"I will allow all to express their opinions from within and outside the parliament in the Legislative Committee. And I reassure all Egyptians that the amendment will be in favor of the citizens and the country that is dear to us all," he added.
"This amendment will take into consideration all the constitutional limitations and general principles governing all the accepted norms in amending constitutions, and we will not diminish freedom or harm the principle of equality in freedoms and duties," Abdul Aal stated.
The pro-government parliamentary coalition Support Egypt, which controls a majority of 350 seats in the House of Representatives, has proposed the amendments after discussing the matter during a meeting for its political bureau on Sunday.
Coalition head Abdel Hadi al-Qasabi said that MPs making proposals is affirmed by their constitutional rights, keeping in mind that "the people are the ones who have the right to amend the constitution and have sovereignty over it."
He added that the discussions unanimously agreed on the importance of amending certain constitutional articles. It was proposed to add a new parliamentary chamber under the name of the Senate (formerly known as the Shura Council), a woman quota in the parliament of 25 percent of the members, extending the presidential term in office from 4 to 6 years, and the appointment of one or more deputies to the president.
Sources said the amendments also include the establishment of a higher council for the judicial bodies, arrangements to guarantee and protect the principles of the civilian state, and regulating the role of the State Council in reviewing laws and agreements.
MP Emad Gad, a member of the 25-30 bloc, said that no one can challenge the constitutional rights of MPs to request an amendment to the constitution, so no one objected to the request.
He added that after referring the articles to the General Session, there will be an opportunity to discuss these amendments and to express opinions of approval or rejection.
Edited translation from Al-Masry Al-Youm