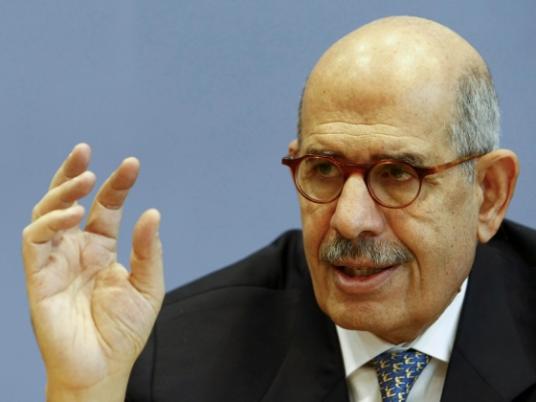 Mohamed ElBaradei, National Salvation Front Coordinator, called on President Mohamed Morsy to apologise to Ethiopia and Sudan for "the irresponsible utterances" made during the national dialogue session held on Monday to discuss the Ethiopian Renaissance Dam crisis.
On his Twitter account, ElBaradei –also the President of the Dostour Party– demanded that Morsy offer similar apologies to both countries in the name of Egyptians.
The live broadcast of the national dialogue on Monday sparked criticism by participants in the dialogue, including Ayman Nour –president of Ghad al-Thawra party. He called for holding responsible those who decided to broadcast on air what was supposed to be a closed dialogue session.
Pakinam al-Sharqawy, assistant presidential adviser for political affairs, extended her apologies for "any unintended embarrassment caused to any of the political leaders who attended the national dialogue session to discuss the report submitted by the tripartite committee on the Ethiopian Renaissance Dam."
On her Facebook page, Sharqawy said the decision for the live broadcast of the dialogue session was taken just before the session, due to the significance of the Nile water dossier.
The most controversial contribution during the session was made by Ayman Nour, who suggested that Egypt disseminate rumors that it is seeking advanced aircrafts. He said this is an intelligence technique of intimidation.
"It might not be realistic, but it will bring results on the diplomatic path", he said. Nour, however, stated he believes diplomatic efforts will not yield great outcomes: "Ethiopians have taken the decision, and it is highly difficult for them to backtrack".
Chairman of the moderate Islamist Wasat Party, Abul Ela Mady, suggested sending army destroyers to the Bab al-Mandab strait and spreading rumors that Egypt is about to strike the dam.
Edited translation from Al-Masry Al-Youm