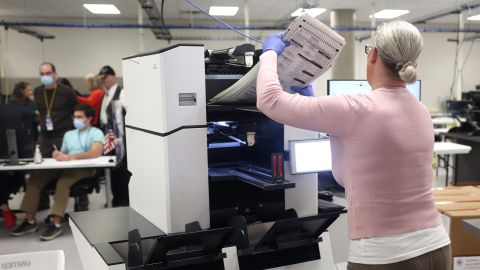 Election officials are urging patience and trying to tamp down on conspiracy theories about why the vote count in western states isn't yet done as control of the House and Senate hangs in the balance.
About 540,000 votes in Arizona and 95,000 in Nevada remained to be counted as of Thursday evening, CNN estimated. The counting in California – where there are more than a dozen key House races – could continue for weeks. But the fact that these uncalled races are impacting control of Congress underscores just how far short Republicans have fallen of their goal of building a red wave.
The GOP was expecting to benefit from President Joe Biden's low approval ratings, the rough economic climate and the fact the president's party usually faces steep losses in the first midterm of a new administration. But with the nation still in suspense over the final outcome three days after Election Day, the Republican blame game was in full swing by Thursday.
Retiring Pennsylvania Sen. Pat Toomey – a Republican who will be replaced by Democrat John Fetterman – bluntly pointed to the role that former President Donald Trump played in the midterms. His backing of weak, election-denying candidates who prioritized loyalty to him over the general electorate created a drag on other Republican candidates, Toomey said.
"At the top of the ticket in the gubernatorial race, we had an ultra-MAGA candidate who never appeared to even attempt to expand beyond a hardcore base that was very, very committed to him," Toomey told CNN's Erin Burnett, alluding to Pennsylvania GOP gubernatorial nominee Doug Mastriano, who lost by double digits.
Toomey argued that the GOP had lost three House seats in the commonwealth that he believed they should have had a good chance of picking up, because of "a real problem at the top of the ticket" in Mastriano, but "also President Trump inserting himself into the race" by coming to Pennsylvania in the final days of the election.
"We were at a time when it's good for Republicans for the race to be about President Biden, who is not popular and whose policies have failed," the retiring senator said, "and instead President Trump had to insert himself and that changed the nature of the race and that created just too much of an obstacle. … It's not just Pennsylvania. All over the country – there's a very high correlation between MAGA candidates and big losses, or at least dramatically underperforming."
After Democrats flipped Pennsylvania's Senate seat, Republicans need to pick up two Democratic-held seats to win the majority. The balance of power has come down to races in three states: Arizona and Nevada – where Democrats are defending seats in races too early to call – and Georgia, where Democratic Sen. Raphael Warnock and Republican Herschel Walker are headed to a December 6 runoff, CNN projects.
In Nevada, Republican Adam Laxalt, the state's former attorney general, was narrowly leading Democratic Sen. Catherine Cortez Masto late Thursday night. In Arizona, Democratic Sen. Mark Kelly had a slightly larger lead over Republican Blake Masters.