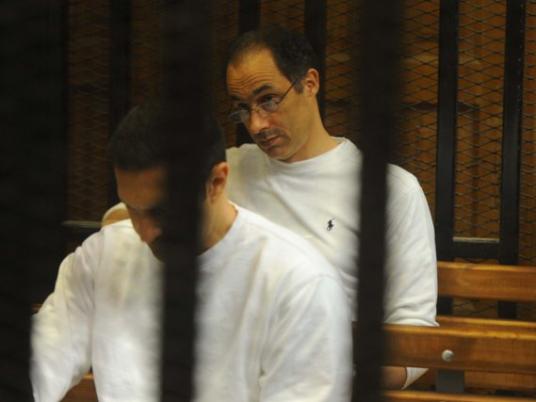 The South Cairo Criminal Court decided in its Tuesday session to adjourn to 12 November the trial of Alaa and Gamal Mubarak and seven others on charges of manipulating the Egyptian Stock Exchange.
The court decided on Tuesday to refer the case to experts of the Justice Ministry in order to determine the amount of money Gamal allegedly made in profits from selling Al-Watany Bank of Egypt. The court is convening after it receives the experts' report.
Gamal, Alaa and seven other businessmen are accused of gaining more than LE2 billion from the sale, which is considered squandering of public funds.
Maher Ahmed Salah of the Egyptian Financial Supervisory Authority said in his testimony that Gamal did not take part in the sale, adding that the report of the committee formed by the prosecution to investigate the matter did not charge him with any offense.
Public Prosecutor Abdel Meguid Mahmoud referred former President Hosni Mubarak's sons, along with seven other people, to criminal court in May.
Investigations suggest the defendants obtained the money by manipulating the stock exchange, Assistant Prosecutor Adel al-Saeed said in a previous statement.
Saeed said the defendants broke provisions of the capital market and central bank laws by agreeing to control Al-Watany Bank of Egypt shares and creating a share for themselves. They allegedly buried and then sold the largest proportion of small investors' shares, but did not disclose this to the stock exchange.
The defendants are also accused of concealing their identities during the bank share dealings through cluster companies and personal closed investment funds, located in Cyprus and the British Isles, and transferring their profits abroad.
Edited translation from Al-Masry Al-Youm