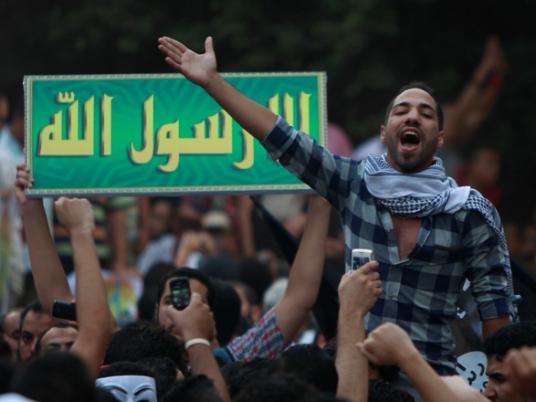 With the rise of Islamists in Egypt, scores of cases have been referred to the courts in the last 2 years, accusing activists and Copts of "contempt of religion."
In general, any criticism of Islam or the Prophet is considered a crime in Egypt under the penal code.
Article 98(f) of the Penal Code states that "confinement for a period of not less than 6 months and not exceeding 5 years…shall be the penalty inflicted on whoever makes use of religion in propagating, either by words, in writing, or in any other means, extreme ideas for the purpose of inciting strife, ridiculing or insulting a heavenly religion or a sect following it, or damaging national unity."
Currently, there is one blasphemy case in effect. Mostafa Hassan Ahmed, a teacher from Sohag, was referred in May on charges of blasphemy. The case has been adjourned to 25 June.
Earlier this month, the Assiut Misdemeanor Court sentenced Coptic lawyer Romany Mourad Saad to one year in absentia, also for blasphemy.
Below are recent cases of alleged "contempt of religion."
September 2012
The Al-Haram Misdemeanor Appeals Court acquitted actor Adel Imam of blasphemy charges after accepting his appeal against a three-month prison sentence.
Lawyer Asran Mansour, who first raised the case against Imam, claimed the actor had ridiculed Islamic traditions in his movies and defamed Egyptian women during a theatrical performance.
Another lawsuit accusing Imam, arguably the Arab world's most famous comedian, of the same charges was then heard at a different court in April before being dismissed.
Imam has frequently poked fun at authorities and politicians alike during his 40-year career, while his more serious films have dealt with the rise of Islamist militancy.
September 2012
A court sentenced a Christian teacher to 6 years in prison after convicting him of blasphemy and defamation of President Mohamed Morsy.
The Sohag Misdemeanor Court found Bishoy Kamil Kamel guilty of insulting Prophet Mohamed, sentencing him to 3 years. He was also sentenced to 2 years for insulting the country's president and another year for insulting a plaintiff lawyer.
October 2012
An Egyptian court ordered the release of 2 Coptic Christian children, aged 9 and 10, accused of insulting Islam. Police arrested the 2 children for "insulting Islam" by allegedly urinating on a piece of paper containing verses of the Quran.
December 2012
A Cairo court sentenced activist Alber Saber to 3 years in prison for insulting Islam. The court found Saber guilty of "contempt of religion" after he allegedly posted online parts of the amateur film "Innocence of Muslims" which sparked protests across the Muslim world.
February 2013
State Security prosecutors summoned writer Youssef Ziedan, winner of the 2009 International Prize for Arabic Fiction and the Arabic Booker, following a report prepared by the Islamic Research Complex on his book "Arabic Theology and the Origins of Religious Violence" published in 2009.
April 2013
The Public Prosecution ordered an investigation into a complaint accusing actress Raghda of blasphemy after she had allegedly insulted Aisha, the wife of Prophet Mohamed.
Mohamed Rashad, the lawyer who filed the complaint, said in his petition that Raghda "crossed all lines of politeness by describing the Mother of Believers as someone raised by the Jews of Bani Quraydha," referring to a Jewish tribe that had fought against the first Muslims. He added that Raghda's remarks "provoked viewers" at an event at the Cairo Opera House.
According to Rashad, Raghda's remarks "violated the Holy Quran's account of the Prophet's wives, and also breached the penal code by committing an action of libel."