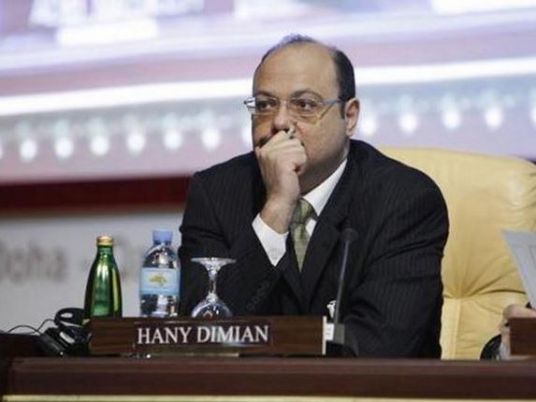 Finance Minister Hany Qadry Dimian says he will unroll the government's monetary and economic policy during the Egypt Economic Development Program in Sharm al-Sheikh (13-15 March), noting that the strategy is primarily based on short-and long-term sustainability as certified by international institutions, including the International Monetary Fund in its latest report.
The minister, in exclusive statements to Al-Masry Al-Youm, said that new policy involves policies supporting economic activity and social programs meant for the redistribution of incomes and taxes.
According to Dimian, the strategy also focuses on major investment projects such as the Suez Canal Corridor Development, as well as other projects involving roads, energy, desalination, petrochemicals, electricity, petroleum, tourism and education.
Dimian added that the Egyptian economy is ready to launch, citing growth indicators for the first half of the current fiscal year that stood at 5.6 percent which, he said, enhanced Egypt's credit ratings.
The minister predicted the investment cost of projects scheduled for presentation during the conference to reach LE40-50 billion, covering the energy, petrochemicals, housing, agriculture and tourism sectors.
The minister boasted what he described as early signs of the conference's success, represented by the signing of a contract between the government and BP which nourishes the market with fresh investments worth of LE12 billion.
Dimian added that he intends, during the conference, to unfold amendments made to legislation on tax, customs, investments, tenders and bonds.
He revealed that the State Council is currently conducting a final review of the executive regulation for amendments to the law on the capital gain tax, expecting the document to issue within two days. He added that more regulation for amendments to the law on real estate taxes were to come to light sooner.
The minister, however, did not set a time limit for the adoption of the proposed draft law on investments, merely noting that it is still under review by the State Council and will be sent to the presidency for approval afterwards.
Asked about the future of loan negotiations with the IMF, Dimian said all financing instruments are on the table and would be selected in due time.
Speaking of the recent decision to set the maximum of income taxes at 22.5 percent, Dimian explained that the decision came to reduce the maximum down from 30 percent, with an aim to enlarge the tax base.
The minister also said the government is inclined to reconsider the tax on incomes above LE1 million annually, known throughout media outlets as the "rich tax".
Dimian also pointed that the Cabinet had sanctioned the offering of US$1.5-$2 billion dollar bonds at foreign markets, which are predicted for issue next May and to be offered for two different maturity periods yet to be determined.