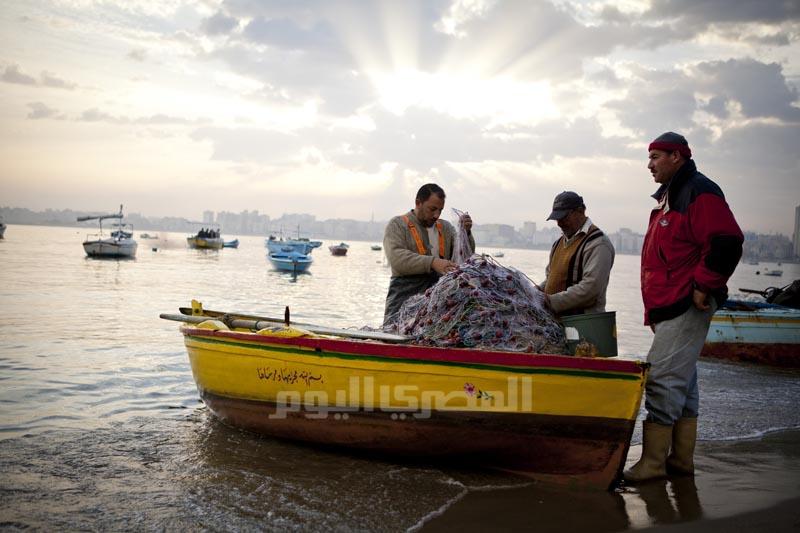 Ahmed Abdo Nassar, head of the Kafr al-Sheikh fishermen's syndicate, has appealed to President Mohamed Morsy to intervene to secure the release of five Egyptian fishing boats detained by Libyan authorities since last year.
The call came Wednesday, only a few hours after the arrival of Libyan Prime Minister Ali Zeidan in Cairo to hold discussions with Egyptian officials.
Libyan authorities are still detaining the boats despite the fishermen involved having paid a fine of 25,000 Libyan Dinar for violating the regional waters of Libya, Nassar was quoted as saying by Turkish news agency Anadolu.
Nassar said that Libyan authorities released 90 fishermen on board these boats and that these men have returned to Egypt. He added that the Libyan authorities decided last November to also release the boats, but that the boats still have not been returned.
The Libyan delegation, headed by Zeidan, will hold a series of talks in Egypt aimed to resolve outstanding issues between the two countries, among them movement problems at the Salloum border crossing.
According to a recent press statement by Egyptian officials, the talks will also address the problems of Egyptian workers in Libya and the need to define rules and clear procedures from the Libyan side regarding the access of Egyptian citizens and vehicles seeking to enter Libyan territory.
Since the revolution which overthrew Colonel Muammar Qadhafi in 2011, Libya has repeatedly called on the Egyptian authorities to hand over a number of Libyan Qadhafi-era officials living in Egypt. Ahmed Kadaf al-Dam, cousin of the ousted Libyan dictator, is among the former regime officials currently in Egypt.
The Egyptian government has stressed that there are no court rulings related to the Qadhafi-era officials.
Tripoli accuses these former officials of responsibility for ongoing security disruptions in Libya.
According to Egyptian observers, the lack of progress on this issue is a key reason behind the tense relations between the two neighboring countries.