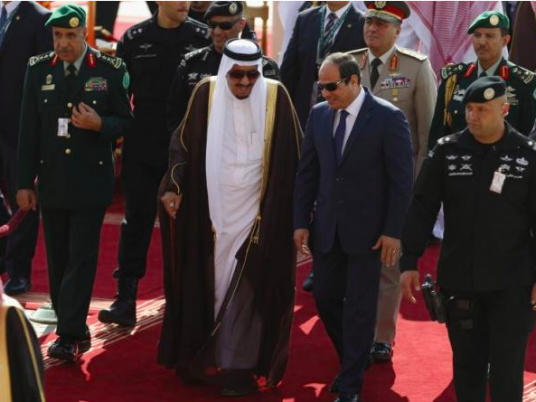 Five protesters have been released from police custody after being detained on suspicion of attempting to hold an illegal protest as Saudi King Salman bin Abdel Aziz was addressing parliament on Sunday.
The protesters, including two females, were arrested on Sunday for 24 hours pending investigations, and were released by Qasr al-Nil Prosecution on Monday.
According to security services, the five persons were arrested in downtown Cairo as they headed to the parliament building, where they planned to hold a protest just as Salman was addressing Egypt's parliament.
According to Aswat Masriya news website, a judicial source said the five were planning to protest against a new agreement on the demarcation of the maritme border between Egypt and Saudi Arabia.
An agreement signed during King Salman's visit places the two islands of Tiran and Sanafir within Saudi territorial waters, returning them to Saudi control after more than 60 years of Egyptian protection.
The two islands are considered strategically-important, being located at the southern entry to the Gulf of Aqaba, level with Sharm El Sheikh.
The islands provide convenient stepping stones for planned a causway connecting Egypt and Saudi Arabia, but there are reports that Israel is unhappy at the potential for interference with shipping heading to and from its southern port of Eilat.
The five would-be protesters were found with banners denouncing the Egypt-Saudi agreement.
Edited translation from Al-Masry Al-Youm