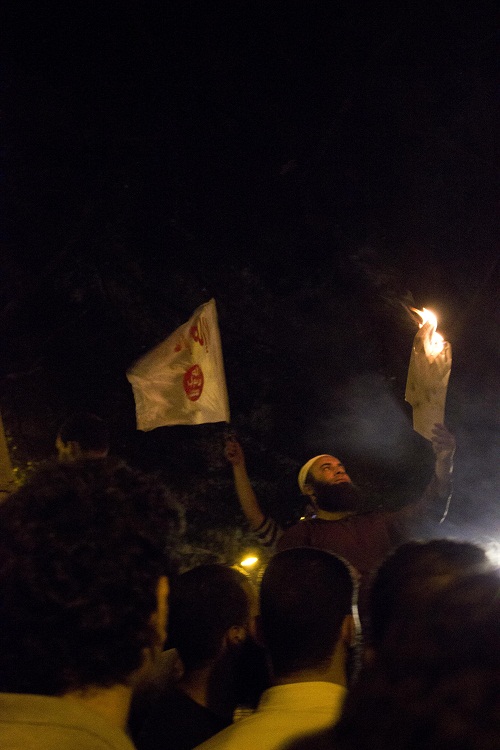 The Egyptian Seminar Center for Rights and Freedoms filed a lawsuit against preacher Sheikh Abu Islam Ahmed Abdallah for allegedly burning the Bible during demonstrations that erupted last week in front of the US Embassy in Cairo over an anti-Islam film produced in the US.
The plaintiffs, who are members of the center and are known for their jihadi views, are Nezar Ghorab, Tareq Abu Bakr, Magdy Salem, Mohamed Ghazlani and Ahmed Zakaria Ahmed.
They said that Abu Islam committed a crime similar to that committed by the movie, as it is an aggression against a divine book.
Former People's Assembly MP Nezar Ghorab, told Al-Masry Al-Youm that, "The position of the jihadi current is clear. It refuses aggression against any divine book. When Pastor Terry Jones burned the Quran, I wrote that we will not burn the Bible, because that does not conform to our religion and is not part of the correct approach to Islam."
Abdallah admitted that he tore the Bible and lit it on fire, saying that what he burned is the holy Christian book in the West.
"I do not acknowledge that there is a divine Bible on the face of the earth," he added.
On the lawsuits filed against him, Abu Islam said that he doesn't care about them, and has received no request for investigation. Even if he does, he respects the law and the judiciary.
Abu Islam refused the accusation of defaming Christianity, saying, "I refuse the term defamation, because it does not exist in Islam. What I acknowledge is belief or disbelief, not defamation. It also is a secular word, and what I acknowledge about Christianity is that it is a pagan, blasphemous religion"
He pointed out that his destruction of the Bible was a reaction to the abuses against Islam and the Prophet.
Edited translation from Al-Masry Al-Youm