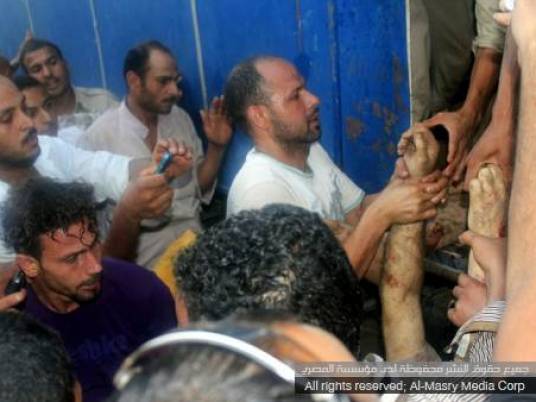 The presidency released a statement strongly condemning the killing of four Egyptian citizens in the village of Abu Musallam, in the township of Abul Nomros, Giza.
The incident was "totally incompatible with the spirit of tolerance and respect which characterizes the Egyptian people, who are known for their moderation," the presidency said.
State agencies have given orders to investigate the crime and arrest its perpetrators, according to the statement.
Prime Minister Hesham Qandil strongly condemned the killings, calling it a "hienous crime" that violates the teachings of Islam. The incident also goes against the "tolerant religious nature predominant in Egypt for hundreds of years," Qandil said in a press briefing on Monday.
The prime minister meanwhile condemned sectarian incitement and violence, which he claimed was alien to Egyptian society.
The "group murder" of four Shia Muslims in Giza on Sunday would have wider ripples outside of Egypt, Shia researcher Ahmed Rasem al-Nafis warned, as Egyptians waited for an official condemnation of the killings.
Nafis, speaking during a phone call with Egypt's privately-owned Tahrir channel, said that the four deaths was "not a surprising incident but a result of sectarian incitement and calls for murdering Shias."
Four people, including a Shia preacher, were killed while another eight were injured by residents of the Abul Nomros village in Giza. Residents broke into Shia homes, setting them on fire before sermonising against Shia Islam, according to eyewitnesses.
"Killing Egyptian Shias represents a destruction of the standards of the state, constitution and law," Nafis added during an interview on Monday. "We don't believe the regime is innocent in this crime, unless it brings the criminals to justice and trial for what they committed."
National Salvation Front leader Mohamed ElBaradei meanwhile posted on Twitter: "Slaughter of four Egyptian Shias is [the] abhorrent result of sanctioned religious intolerance. Long way to go to ensure freedom of belief!'"
On Facebook, Freedom and Justice Party (FJP) vice Essam al-Erian said: "Egyptian blood is forbidden, Muslim or Copt, man or woman, Sunni or Shia, civilian or police. All is forbidden."
Satirist Bassem Youssef also tweeted saying: "Whoever gets happy for killing Muslims from a different doctrine, shouldn't get angry when Sikhs and Zionists kill them."
"You're anti-humanity, so do ask to be treated humanely," the popular television host added.
However, Islamist preacher Khaled Abdullah seemed to celebrate the news.
Speaking during his television show on privately-owned Al-Nas satellite channel, Abdullah accused victim Hassan Shehata of having escaped from the Iranian city of Qom and "insulting" Abu Bakr, Omar and Othman [companions of the Prophet Mohamed].
Gamal Maayouf, who claimed to be an eyewitness of Sunday's events, referred to Shehata as "that dog" during a live phone-in on Abdullah's show.
"That dog, who insulted Aisha [the Prophet's wife] and his companions, was going to give a sermon along with three of his assistants to insult them 2 hours before," he claimed. "He [Shehata] was warned more than once. However, he insulted the mother of the faithful [Aisha]."
Tamarod opposition campaign spokesperson Mahmoud Badr said on Monday: "Whoever kills Egyptians for differences in religion or sect is a vile person who doesn't deserve to live in this country."
On Facebook, Badr said that those responsible for the deaths of the four Shias should be executed, claiming they had killed fellow Egyptians because of their identity.
He also concluded expressing solidarity with Egypt's Shia community in the face of extremism.
Freedom of belief is a right afforded to all Egyptians, Badr added.
Edited translation from Al-Masry Al-Youm