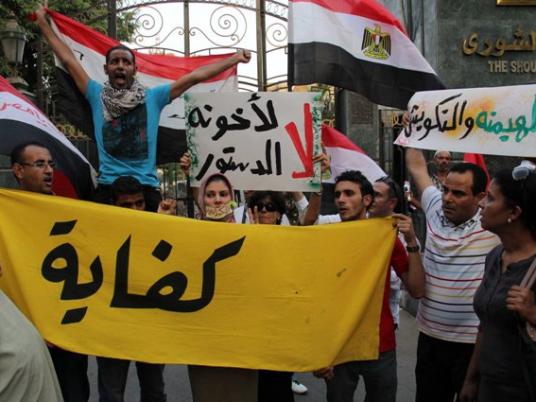 Egypt's main left-wing political leader called on Monday for the immediate formation of an interim government to fill a dangerous political vacuum after a deadly clash between the army and Muslim Brotherhood supporters in which dozens were killed.
Former presidential candidate Hamdeen Sabbahi, leader of the Popular Current party, told Reuters the new authorities created when the army toppled Islamist President Mohamed Morsy last week in response to mass protests could not afford to wait.
The appointment of a prime minister has been held up for two days because the ultra-conservative Islamist Nour Party rejected both secular candidates for the post nominated by army-backed interim head of state Adly Mansour.
"We cannot leave the country without a government. He should appoint the government today," Sabbahi said, adding that Nour had been offered a position of deputy prime minister or vice-president.
"Of course it is better if the Nour Party participates, even if it puts some pressure on us. I can accept this pressure," he said.
"But they did not participate in the demonstrations of the January 25 revolution (which overthrew Hosni Mubarak in 2011) nor on June 30 (which led to Morsy's fall). So why do they have this veto?" he said.
Mansour initially offered the post to veteran liberal politician Mohamed ElBaradei, former head of the U.N. nuclear agency, and then to social democrat Ziad Bahaa el-Din, a commercial lawyer and former head of Egypt's investment authority.
Sabbahi said it was important to have Islamist participation in the transition but he believed that Nour might revise its position and either join the government or join in the rewriting of the constitution once a new administration was formed.
Asked about Monday's clash outside Republican Guard barracks, in which medical sources said at least 51 people died, Sabbahi said: "It is very bad news. Very painful. The troops have the duty to guard this building and deal with any attackers. But the result puts us in a bad situation."
The only beneficiaries of such bloodshed were the Muslim Brotherhood and others who sought to polarize the situation and drive Egypt to civil war, he added.