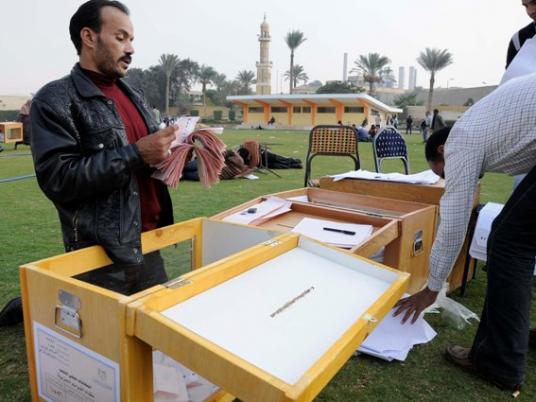 The High Elections Commission on Sunday released a comprehensive tally of votes in Egypt's recent parliamentary poll, the first phase of which was held on Monday and Tuesday.
The Muslim Brotherhood's Freedom and Justice Party (FJP) led the polls. It won 40 percent of the vote, while the Salafi Nour Party achieved 20 percent and the secular Egyptian Bloc secured 15 percent. The liberal Wafd Party won 6 percent, while the moderate Islamist Wasat Party won 4 percent.
A total of 9,734,513 valid votes were cast in the poll, while 612,713 were judged to be invalid. Among 17,522,000 eligible voters, 10,734,512 Egyptians voted for what represented a participation rate of 59.1 percent, a ratio far higher than in any election held under the rule of deposed President Hosni Mubarak.
Port Said had the biggest turnout of any governorate, with 70 percent, followed by Alexandria at 67.6 percent, and Damietta at 66.3 percent. The turnout in Cairo was 61.7 percent. In Kafr al-Sheikh, the turnout was 56.9 percent, in Assiut, it was 54.7 percent, in the Red Sea it was 53.5 percent, and in Fayoum 51.6 percent. Luxor was at the bottom of the list with 50.7 percent.
In the first phase, 36 political parties and coalitions contested 168 seats — 56 seats under the single-winner system and 112 seats under list-based candidacy.
Below are the official results of the 28 largest parties that participated in the elections:
1. Freedom and Justice Party: 3,565,092 votes
2. Nour Party: 2,371,713 votes
3. The Egyptian Bloc: 1,299,819 votes
4. Wafd Party: 690,077 votes
5. Wasat Party: 415,059 votes
6. Revolution Continues Alliance: 335,947 votes
7. Reform and Development Party: 185,238 votes
8. Egypt National Party: 153,429 votes
9. Freedom Party: 136,784 votes
10. Adl Party: 76,769 votes
11. Conservatives Party: 76,743 votes
12. The Egyptian Citizen: 67,602 votes
13. Peace Democratic Party: 51,704 votes
14. Ghad Party: 39,999 votes
15. The Union Party: 39,527 votes
16. The Arab Nasserist Party: 39,257 votes
17. The Egyptian Revolution Party: 36,975 votes
18. The Democratic Front Party: 33,293 votes
19. The Egyptian Arab Union: 31,223 votes
20. Modern Egypt Party: 27,006 votes
21. Egypt the Revolution Party: 26,804 votes
22. The New Independents Party: 10,792 votes
23. The Revolution Guardians Party: 5,895 votes
24. Human and Citizenship Rights Party: 4,436 votes
25. Social Peace Party: 3,416 votes
26. The Awareness Party: 3,180 votes
27. The Arab Party for Justice and Equality: 3,156 votes
28. The Constitutional Social Free Party: 3,047 votes