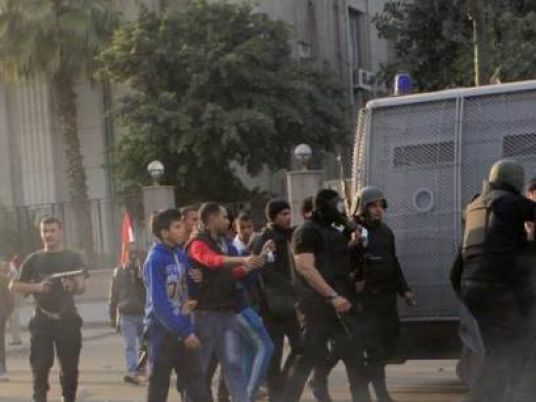 In the British Foreign Ministry's annual report on human rights worldwide, it was noted that in 2015, the state of human rights in Egypt had continued to deteriorate. The report underlined that Britain will support the Egyptian government and civil society in their efforts to address the situation.
In the report, published on its website, the Foreign Ministry added: "In the last year Egypt faced a high threat from terrorism that resulted in the death of at least 366 people, in addition to the attack on a passenger plane that killed 244. But in the background of these high-profile issues, the state of human rights was steadily deteriorating.
The report added that despite 2015 seeing the release of some detainees, the Egyptian government continued to detain activists, journalists and protesters.
In February 2015 alone, the report mentioned, 230 activists were sentenced to life imprisonment in mass trials over protests that occurred in 2011. Former President Mohamed Morsi, too, was sentenced to death last May in a mass trial along with more than 100 others.
Last June the Cairo Criminal Court sentenced Morsi and others to death in a ruling for the case known as the "prison storming" case, concerning incidents from the January 25, 2011 revolution.
The report went on: "In 2015 the number of reports of torture, police brutality and enforced disappearances rose," indicating that a local NGO disclosed reports of 676 cases of torture and 137 of death in police custody.
According to the report, the National Council for Human Rights presented the Interior Ministry with a file for 191 incidents of enforced disappearance. The Interior Ministry responded that 99 of those individuals were in custody, and 15 have been released.
The report indicated that restrictions on civil society in 2015 limited organizations' ability to register themselves officially and to receive funding, noting also that a number of prominent human rights defenders were prohibited from travel in 2015.
It was also stated that restrictions on freedom of speech were tightened over the course of last year. The number of journalists imprisoned over the past year rose to 23 individuals, according to the Journalists Defence Committee. The report also mentioned the protestor Shaima al-Sabagh, who was killed by police during a protest in January 2015.
In response to the British report, an official from inside the Egyptian Foreign Ministry said he was "not impartial" to the report's reliance on unofficial NGO statements. He added that the report failed to mention the progress made recently by Egypt in the area of human rights.
In a news conference with the French President in Cairo last week, President Abdel Fattah al-Sisi underlined the importance of the issue of human rights for Egypt, saying that the country seeks to broaden personal freedoms as it strives to realise the vision of becoming a modern civil state.
Edited translation from Aswat Masriya