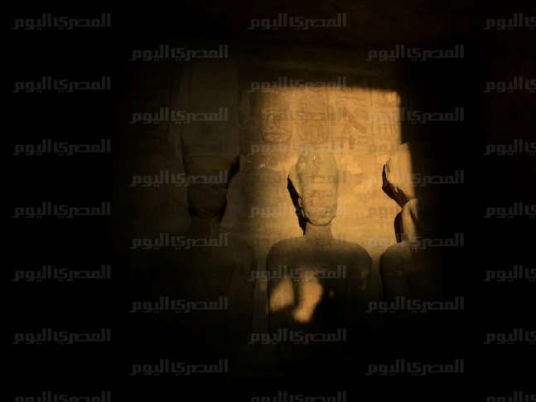 Hundreds of Egyptian and foreign tourists stood by the ancient Abu Simbel temple in Aswan to watch the sun's alignment on the face of the statue of Pharaonic king Ramses II.
This rare astronomical phenomenon observed by tourists twice a year: 22 February, which marks the king's assumption of the throne, and 22 October, his birthday.
Aswan governor Mostafa Yousry, Social Solidarity Minister Ahmed al-Boraie and ambassadors of 30 countries attended the event.
Ahmed Saleh, director of the Abu Simbel Antiquities department, said the phenomenon started at 6:23am and lasted for 20 minutes, with sun rays passing 60 meters through the columns hall to the Holy of Holies.
Ashraf Mokhtar, a member at the tourism chamber, said several tourists were unable to enter the area due to the high turnout and ticketing delay.
Edited translation from Al-Masry Al-Youm