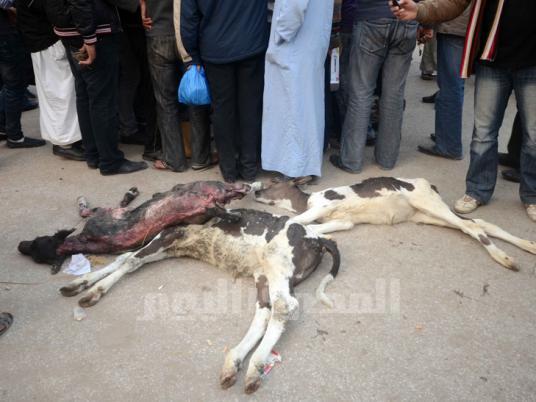 In response to the recent increase in foot-and-mouth infections in livestock around the country, the government has formed 3,000 local teams to follow up on the new SAT2 strain of the virus and prevent it from spreading further.
The number of confirmed foot-and-mouth cases has reached 2,175 since late February, according to official reports.
Foot-and-mouth disease is an infectious and sometimes fatal viral disease that affects cloven-hoofed animals. The virus causes a high fever for two or three days, followed by blisters inside the mouth and on the feet that may rupture and cause lameness.
The Agriculture Ministry has prepared a memorandum for the cabinet accusing a number of governors of failing to implement ministry decisions to protect livestock and failing to take necessary veterinary measures or close livestock auctions as instructed by the General Authority for Veterinary Services.
The provincial officials accused in the memo include the governor of Gharbiya, who failed to shut down the livestock auction market in Kafr al-Zayat on Wednesday despite the increasing number of foot-and-mouth cases in the governorate.
Veterinary services head Major General Osama Salim told Al-Masry Al-Youm that despite the severity of the outbreak, the number of cases being reported is exaggerated. He pointed out the importance of committing to all preventive measures, restricting the movement of livestock between governorates, and closing livestock auction markets to limit the spread of infection.
Head of the authority's Central Department for Preventive Medicine Dr. Suhair Hassan said the authority is "on high alert" due to the serious nature of the new strain of the virus. She added that the virus can spread through the air over a distance of 100 km and that given the lack of border controls between governorates, the state needs to immediately follow up and take the necessary preventive measures to protect livestock.
She pointed out that prior to the emergence of the new SAT2 strain, Egypt had two controllable strains of the virus that were dealt with in accordance with standard veterinary practices.
Official Agriculture Ministry sources said new legislation prohibiting slaughtering animals outside of registered slaughterhouses is urgently needed. The sources also said they want to see immediate plans to increase the number of slaughterhouses that would include private sector participation and state supervision.
Translated from Al-Masry Al-Youm