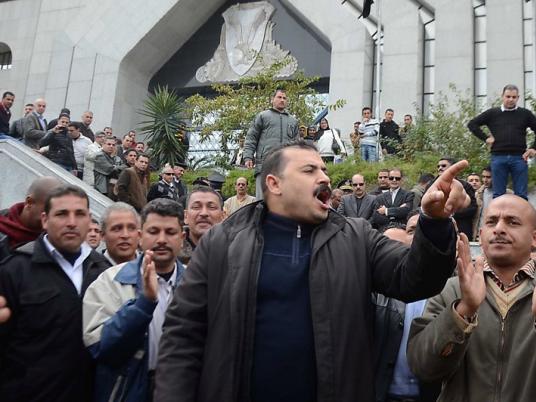 Interior Minister Mohamed Ibrahim has denied that a "Brotherhoodization" of the police is underway, and has also said that representatives of the Muslim Brotherhood Guidance Bureau do not attend meetings of the police's supreme council.
Ibrahim added that such meetings are "known to all, and not a secret."
In an interview with state-run newspaper Al-Akhbar Saturday, Ibrahim also said that the situation in Port Said was "serious," and said that it escalated until relatives of the defendants and protesters were sitting-in at the prison to prevent them from being moved to Cairo.
According to Ibrahim, it would have been impossible to deport the rest of the defendants to the court in Cairo before the verdict, claiming that such a move would have caused "violent conflict and casualties."
The interior minister also said that the storming of the prison immediately after the verdict had been issued created a difficult situation for security forces.
"It was like a flood as they rushed toward the prison," he said, claiming that "in addition to those who infiltrated in the crowd, [people] stood on the roofs of buildings surrounding the prison and fired gunshots that injured and killed everyone, both the police and the people."
"[Some] intended to storm the prison to help out some high-risk criminals who were arrested during a [police] campaign at Lake Manzala," Ibrahim added.
The minister also denied accusations that the Interior Ministry had adopted a "pre-revolutionary attitude," saying, "If that is true, why do hundreds of soldiers and officers stand still receiving the heaviest attacks by boys for hours, while we can surround and catch them in 10 minutes?"
Speaking about activist Mohamed al-Gendy, Ibrahim denied reports that he was tortured to death and that his forensic report was falsified to say he had been hit by a car.
"The police are facing a systematic plan to break it, starting from questioning [it] until frustration and psychological collapse," Ibrahim said, seemingly characterizing questions into Gendy's death as a plot against police forces.
Regarding police officer protests, Ibrahim described their demands as "legitimate and legal," and said that the ministry is trying to meet them but that its financial resources are currently "limited and can only meet 50 or 60 percent" of officers' needs.