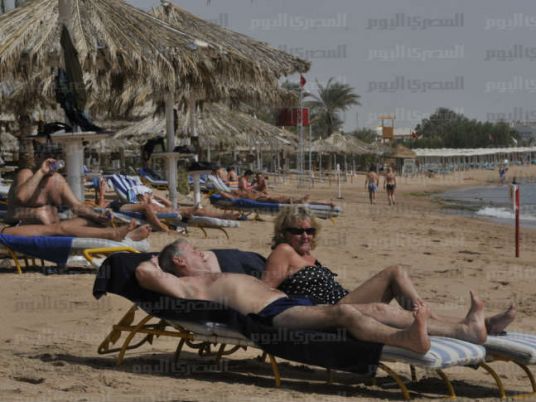 An Italian property developer with investments in Egyptian tourism has launched an initiative to lure Italian tourists back to Sharm el-Sheikh, with a focus on wealthier clients from Italy who can inject more money into the Egyptian economy.
Ernesto Preatoni, who owns Domina Coral Bay Resort in Sharm el-Sheikh, played a vital role in attracting 500,000 Italian tourists to the city before the January 25 revolution in 2011. However, the numbers fell to 11,000 this year for a variety of reasons. Now he is seeking to revive the resort by tempting wealthy holiday-makers.
Preatoni has over 40 years of experience in tourism and owns resort in various parts of the world. As founder and chairman of Preatoni Real Estate, he says he will benefit if the initiative succeeds, allowing him to develop his business in Egypt and inject more investment.
At the heart of the initiatives is a promotional trip that he is funding himself, seeking to bring influential people from Italy to the Red Sea resort for a fact-finding holiday.
He has paid for eight flights from four different Italian cities, each carrying 180 persons, including tourists, investors, journalists, and politicians. On arrival in Sharm el-Sheikh, they will enjoy a one-week stay — again paid for by Preatoni — to show them how secure and beautiful the resort is.
The first of these flights will be on the October 2 and the last on November 28, and the campaign promises to be the resort's biggest ever promotional event.
"Our aim is not to bring back regular tourists to Sharm el-Sheikh, but the more wealthy tourists," said Preatoni.
"Sharm el-Sheikh is super beautiful and deserves to be the destination of wealthy people in Italy and the world.So in our initiative we aim to invite wealthy Italians and provide direct flights fromt he cities of Naples and Bari, known for their love of travel. Thus the initiative is going further than the idea of bringing back normal tourists, focusing on the wealthy."
Meanwhile, Egypt's Aviation Minister Sherif Fathy has spoken with representatives from Preatoni's company to discuss the details of the project. Fathy gave his support to the initiative and has instructed to officials to lend their support, calling on EgyptAir and Air Cairo to offer all facilities need to make it a success.
In discussing the the fate of Sharm el-Sheikh, Preatoni has not been shy in criticizing Italians for their attitude in the wake of the murder of Italian student Giulio Regeni in Cairo in February.
"I do not understand why voices are getting louder in Italy demanding a travel ban to Sharm el-Sheikh following the killing of the young man Regeni!" he said.
"I am very sad about the death of this wonderful young man, but crimes will not stop in the world, as well as life. Yes, I hope the murderers will be arrested and punished, but that crime does not have to stop us from working or prevent those who are alive from enjoying their lives," he added.