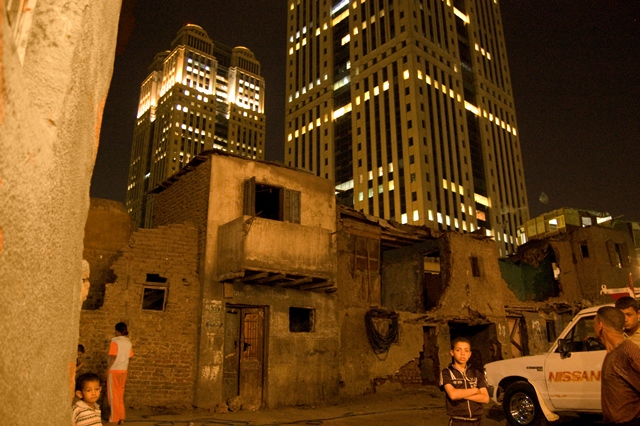 The death of five-year-old Amar Mohammed Salah as fire tore through his shack in Boulaq, a central-Cairo slum on 27 June, was only the most senseless and tragic event in the recent history of an area marked by intimidation, immiseration and neglect. When residents tried to connect a fire-hose to a water supply in the adjacent Nile City Towers, a luxury development, staff there apparently refused to turn on the taps. When they heard of Salah's death, residents began to protest, and the next day Nile City told employees to stay home from work.
The fire and the protest were covered by several media outlets, but often without the context of an ongoing struggle of residents to hang onto their land, and to their livelihoods, in an area wracked by inequality and conflict.
The past two months have seen the use of shotguns and petrol bombs in attacks on residents of the area. Meanwhile, both local developers and the state want the shack-dwellers gone from the valuable Nile-front real-estate. On 20 June, the Cairo governorate issued an order authorising police to evict them.
The Nile City development hosts a mall, cinema, and corporate offices, as well as the Fairmont Hotel and Tamarai nightclub. The shacks in which the residents live, meanwhile, are decrepit. The government provides neither sewage nor running water. Many are wooden fire-traps; and residents are unable to develop their properties due to uncertain tenure, and the ever-present risk of eviction.
Nile City's owners, the Sawiris and Shokshobi families, have a long-standing interest in the land beneath the shacks, which sit on valuable real estate just off the Nile corniche. Residents believe the developers want them gone. "They don't like the sight of us here," says Mohammed Sayyed, a young man from the area whose back is peppered with shotgun wounds.
Intimidation of residents: Petrol bombs and beatings at night
Elderly local resident Ahmed Saleh initiated a court case last year asserting ownership of the land on which his house stands. In early May, a number of attacks were made on himself, members of his family, and their homes. Early one morning, on his way to the mosque to pray, he was set upon by several burly men, who beat him severely and left him unconscious. He still has a large wound on his leg, and finds it difficult to walk. One of his daughters was also assaulted.
Two days later, one of Saleh's son-in-laws, Mohammed Mustafa, with whom he lives, awoke to another attack.
"It happened at dawn, four in the morning. They cut off electricity in part of the area, the wires were cut, but they did not manage to get ours. So we had light, that's why I could see them clearly. We heard the explosion of the Molotov cocktails and ran out, me, my wife and kids. The neighbors were there in no time. I walked a few steps as soon as I opened the door to follow where they were going. I wanted to follow them but my leg is bad and I cannot run.
"I saw four masked men. Two ran in the direction of the hotel and I saw them run in through the back door of the tower, after which it closed. The two others ran to the right and jumped over to the parking area. They had thrown about four to five Molotovs, they didn't manage to throw everything they had because they ran as soon as they heard the door open. The police came and said they would investigate this. They keep making promises about a report, but nothing ever happens. They never give us our rights."
A few days earlier, the house of another of Saleh's daughters, Shayma, was attacked, also with a petrol bomb. Their door is still scorched.
The use of the tower door in the early hours of the morning suggests the connivance of Nile City security.
Such physical intimidation is not unique within the Bulaq Abu Ela area. The Habitat International Coalition has collected testimonies from other residents who say they have been harassed by burly thugs, and prevented from making improvements to their properties, according to researcher Imogen Lambert.
Intimidation of workers: Shotguns in broad daylight
Residents of the shacks are linked to the towers not just by proximity and the tussle over their land. They are also linked by their labor.
Local families are desperate for work. Poverty in the area is such that most families are only able to sustain themselves with charitable assistance. Muslim Brotherhood charity workers come by every so often and sell gas canisters for LE5 each, rather than the LE35 they would cost otherwise. The Masoud charitable foundation supplies 70-90 percent of residents with between LE15 and LE25 per week, as well as assistance with school uniforms and medicines, according to a representative.
When the revolution came, the faltering economy left many residents jobless. But the public security vacuum generated a corresponding demand for private security guards at the towers. On 25 January 2011, residents had mobilised to defend the towers when the official guards fled. Naguib Sawiris expressed his gratitude, and agreed to employ local residents.
Over the past year, around 67 shack residents have come to work informally for the towers. They take a wage of LE800 per month according to documents seen by Egypt Independent, less than half that paid to G4S staff that formally secured the towers. The residents have no work contracts, insurance, identity cards or uniforms, and are paid on the first of the month from a derelict office on the outskirts of the shack area, close to the tower and operated by tower management. Part of the residents' security work is to prevent families moving back to reclaim land from which they have previously been evicted. "They set us against each other," Sayyed repeats, shaking his head.
These wages, however, do not cover every family, nor are they necessarily sufficient for large families, those with debts, or substantial medical expenses. A number have taken to working as car parking attendants outside Nile City. This has generated tensions with the official tower security. As a result, there have been occasional physical altercations.
These erupted on a whole new level, however, between 7 and 9 June. On both days there was serious fighting. Shotguns were used just metres from Nile City, the Fairmont Hotel, and corniche. Several residents were hospitalised, and one Mohammed Saleh, a young boy, apparently lost an eye. On a visit to the area on 10 June, Egypt Independent met a number of other residents with substantial injuries from shotgun pellets, including another child with a pellet lodged in his face.
The exact course of events is hard to determine, but according to the residents an initial attack was made on the car parking attendants by a squad of burly private security guards from the Nile City towers. Thereafter, confusion developed. According to testimonies, some of those firing shotguns at local residents were also local residents themselves; and the popular belief is that they were armed and paid to do so by Nile City's security. Indeed, local residents seem to know their names, but are afraid to give them. "You think people here can afford guns and bullets?" asks Sayyed.
The state, the developers and the shack-dwellers
While locals have reported many of these attacks to police, none appear to have been investigated, and residents retain documentation of their reports in vain. By contrast, police and security services respond promptly to requests for support on the part of Nile City. While no police arrived to stop the fighting in which residents were injured, police did attend on 4 June, when a demonstration had been planned by some of the workers. "We went to the Bulaq police station and to the Ministry of Interior to ask for protection from those thugs, but they refused to help," says Nihmido Hussein Yunis.
There are multiple allegations that locals have been beaten or arrested on patently false charges when they challenged Nile City over issues such as violence towards minors or unpaid wages.
According to local Freedom and Justice Party MP Mustafa Farghali, "it is well possible" that such connivance exists. Farghali told Egypt Independent that he intended to raise questions in Parliament – but the next day Parliament was disbanded.
Tarek al-Halawani, head of security at the Nile City towers, refused to answer questions when contacted by Egypt Independent and Sawiris himself was unavailable for comment. Nile City Investments was impossible to contact.
The 20 June Cairo governorate decree mandating the expropriation of the land beneath the shacks made no explicit provision for the rehousing of the residents, although it is likely, says Heba Khalil of the Egyptian Centre for Economic and Social Rights, that there is a plan to move them to desolate concrete tenements on the edge of Cairo. Such evictions, common in pre-revolutionary Egypt, are generally carried out by police at a few hours notice.
Meanwhile, residents live in fear for their safety and the future. Mohammed Mustafa's wife Azza stays awake through the night, sitting on the porch of her single room lest the attackers come again. At weekends, until the early hours, she hears the throbbing bass of the opulent Tamarai nightclub, where Cairo's elite drink cocktails, eat well, and think nothing of the shacks below.