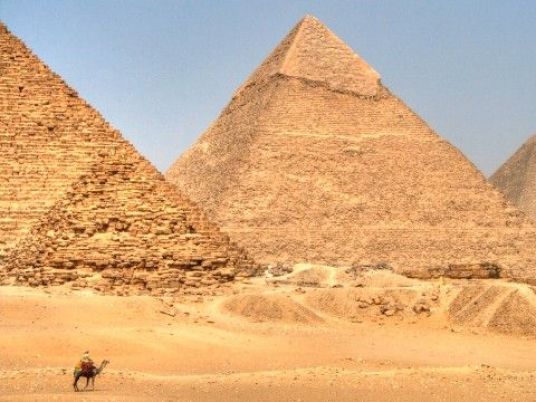 The Ministry of Antiquities plans to inaugurate the largest temporary restoration laboratory on Wednesday morning at the site of the Egyptian-Japanese expedition operating at the second Khufu vessel in the Giza Pyramids area.
The ceremony will be attended by the President of Japan's Higashi Nippon International University, the general director of the university, the head of the Egyptian Antiquities Sector at the Antiquities Ministry, and the head of the projects sector at the Ministry.
The project is the first and largest temporary restoration lab to be located within the work site of an archaeological expedition. The lab took from mid-January 2017 until mid-March 2017 to be constructed, said Eissa Zidan, the restoration manager of the project.
Zidan pointed out that the lab is 45 meters long. It has the latest equipment and high-tech means such as modern microscopes, water level measuring devices, a complete set of scales and ovens, and other devices used in the restoration process, Zidan said.
The head of the Japanese mission, Sakouzi Yoshimura, said the lab cost nearly LE1 million, provided by Japan.
He added that the lab was equipped with high tech devices that will be used in the restoration of the long and large wooden pieces of the second Khufu ship.
The longest wooden part of the Khufu vessel, 26 meters long, will undergo a restoration process at the lab once it is inaugurated, said one member of the Egyptian archaeological team contributing to the project, Mamdouh Taha.