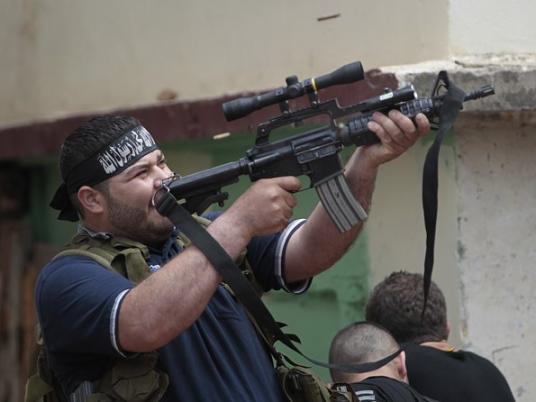 BEIRUT — Deeply tucked into the barren hills of Lebanon's northeastern region of Hermel, the isolated town of Ursal has become a household name in Lebanon thanks to the Syrian uprising.
Like many other towns and villages straddling the border in this region neglected by the state, Ursal's population has long survived on border smuggling, mostly of diesel, electronics and other consumer goods. Small-sized quarries dotting the snaky road connecting the town to Beqaa Valley provide another hazardous, yet prized, source of income.
But as armed conflict took hold of Syria, weapons became the dominant booty. Tightened border security between the two countries and suspicions of Free Syrian Army movement across the border meant that smugglers risked instant death upon discovery. The risk is hardly worthwhile except in the case of weapons, due to the high sums of cash involved and, in some cases, political convictions. Ursal's Abdel Ghani Jibbawi might have been the latest player – and victim – of this dangerous game. Last Tuesday, Jibbawi was shot dead and three others, including a Syrian, were injured after a skirmish with the Syrian army.
"They were hunting rabbits," says Jibbawi's angry father Zahri as he stands beside his son's blood-soaked vehicle and the tent set up to receive condolences following the funeral.
"When the operation happened, we called the [Lebanese] army. Why didn't the army head there? They didn't have guts," he says.
Lebanese army sources and their Syria counterparts scoff at the idea of rabbit hunting in the middle of the night during such times. The men were smuggling weapons, they assert.
The disagreement between the people of Ursal and the authorities is not simply over illicit trade. Ursal's mayor, like most residents, is a vocal opponent of the regime of Syrian President Bashar al-Assad, and has reported links with the Free Syrian Army. Ursal stands out among the mostly Shia villages in Hermel in terms of its anti-Assad politics, particularly given its Sunni formation, but the northern Akkar region is on Ursal's side, and Lebanese sympathies regarding the Syrian uprising are largely determined along sectarian lines. Since the infamous battle of Baba Amr in Homs, north Lebanon – including its coastal city Tripoli – has increasingly become a haven for the Free Syrian Army, as well as for civilians fleeing the fighting.
In the past month, a series of clashes, arrests, kidnappings and assassinations in the north led to a serious escalation in political rhetoric and violence between pro- and anti-Assad forces while turning Islamists into a force to be reckoned with.
On 12 May, security forces arrested Islamist Shadi al-Mawlawi, accused of belonging to Al-Qaeda. The Tripoli-based young man had allegedly developed links to Al-Qaeda cells while in Syria. In Lebanon's north, Mawlawi was a well-known backer of the anti-Assad uprising and suspected of supplying weapons to the Free Syrian Army.
His arrest triggered rallies and protests across the region. Tires were burned and snap sit-ins were held in one of the city's main squares. Mounting pressure led to the eventual release of Mawlawi, who received a hero's welcome in Tripoli. Prime Minister Najib Miqati reportedly pushed for the release. Miqati hails from Tripoli and broke off his alliance with former Prime Minister and Future Party head Saad Hariri to form a government with the 8 March Alliance, of which Hizbullah is a member.
"This was a serious mistake that totally undermined state authority and signaled further erosion of security," argues Fida Itani, an expert on Islamist movements and political commentator.
A week following Mawlawi's arrest, an Akkar cleric named Ahmed Abdul Wahid was shot dead by the Lebanese army at a checkpoint on his way to an anti-Assad rally. Hariri forces in Beirut responded by launching an all-night battle to kick out a pro-Hizbullah militia leader from their stronghold neighborhood of Tariq al-Jdideh.
Following the killing of Abdel Wahid, Itani says Hariri tried to pose himself as a savior, but this time around people didn't immediately lend him their ear.
"When Ahmed Hariri [Saad's cousin] spoke at the funeral, shooting in the air drowned out his speech," Itani points out. "The lack of trust by people in Hariri led them to search for alternative forces."
But the major arena of fighting remains the fault lines separating the poor districts of Bab al-Tabbaneh and Jabal Mohsen in Tripoli. The former is a bastion of Sunni Islamist forces, the latter home to an Alawi community and armed groups supportive of Assad. The confrontation reached a high point this past weekend, with over a dozen dead and many injured. Lebanese army forces were deployed in the city amid talk of a military operation against the militias, but with little success so far.
Itani says these developments must be understood in the context of the changing nature of the Syrian conflict and the evolving dynamics of Lebanon's complex political landscape.
After failing to create a buffer zone along the Turkish or Jordanian borders, "there is a desire by the Free Syrian Army to control the north of Lebanon and turn it into a comfortable base for launching operations," explains Itani. "The Syrian regime in return has no problem turning the situation into a heated one to get rid of elements of the Free Syrian Army in its own territories and export them to Lebanon."
Akkar is one of the most impoverished regions in the country. During the years following the 2005 assassination of former Prime Minister Rafik Hariri, his son and successor Saad whipped up sectarian sentiments to galvanize his Sunni supporters. The poor, conservative population of Akkar was a reservoir for his mass rallies. But Hariri's liberal discourse and lack of street muscle in the face of pro-Hizbullah forces led many Islamists to start steering an independent course and weave direct links with Saudi Arabia and other gulf patrons.
Itani says many of the emerging Salafi leaders are merely vocal phenomena, with people increasingly flocking to their mosques to hear their fiery speeches, with nowhere else to turn. But armed groups are also gaining currency, and Itani says the kidnapping of 11 Lebanese Shia pilgrims near Aleppo on 22 May was an attempt to drag Hizbullah, which is supportive of the Assad regime, into a confrontation and fuel sectarian tensions.
"We know what weapons Hizbullah has, but we don't know what the others have amassed so far," says Itani. It is unlikely that the Islamists are as organized and armed as Hizbullah as of yet, but the situation is prone to blowing up any minute, with pockets of unrest erupting in hot spots like Tripoli and parts of Beirut's suburbs.
The army remains in a precarious position, and whispers of Syrian army intervention in the north, though unlikely, have begun to surface. The 8 March government has fared no better than its predecessors in terms of improving security and economic conditions. Tire burning has become a regular occurrence due to a wide range of grievances across the country. Miqati's declared policy of "distancing oneself" from the Syrian crisis has only served to weaken the state's grip on the situation.
While Islamists gain the upper hand in the north and security breaches become more frequent, secular and civil society activists in Beirut who support the Syrian uprising may be the biggest losers in this fray.
Beirut-based activist Saad Kurdi says it is now more difficult to visit and aid Syrian refugees in the north, who have been largely brought under the wing of Salafis or international organizations. But Kurdi asserts that political action in solidarity with the uprising has not been totally silenced.
"We held a protest following the Houla massacre and took part in a commemorative rally by Kurdish activists in Beirut last week," Kurdi explains. "Some activists have become hesitant to take part after the breakout of violence, but others think that this is the time to be active and support the uprising so other less desirable forces don't prevail."
Blogger and activist Khodor Salameh is less optimistic.
"What has happened in the north has exposed the sectarianism and narrow agendas of many people, and the number of activists who are still active and enthusiastic about the Syrian cause is in decline," he says.
With the logic of arms taking over among many Lebanese, the Syrian conflict has not simply seeped into Lebanon. It has awakened and fueled already existing fault lines among different factions. Contrary to national history taught to schoolchildren in Lebanon, the country does not only excel in food services and tourism, but also in the making of civil wars as a last resort to local and regional conflicts. Many fear the time for a new round could just be around the corner