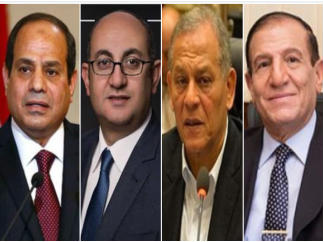 Like moving across a chessboard without a clear plan, Egyptians are currently awaiting March's presidential election, with confusion regarding the standing candidates following campaign withdrawals, ambiguity on stances, and potential candidates facing difficulties meeting the requirements for an official candidacy.
The High Electoral Committee (HEC) has set the timetable for the presidential race. Egyptians abroad will vote on March 16, 17, and 18, while in Egypt, the population takes to the polling booth on March 26, 27, and 28.
The Committee will receive applications for candidacy from January 20 to 29, and the initial list of candidates will be announced and published on 30 and 31 of January. Appeals will be received on February 1 and 2, for those who are not considered legible.
Abdel Fattah al-Sisi
By Wednesday, the second day of collecting [at least 20] signatures in order to be considered a legible presidential candidate, 510 MPs announced they had signed their support for the nomination of current President Abdel Fattah al-Sisi to serve a second term.
The number on the first day stood at 460, before others joined them.
Sisi has not so far announced whether he will run for president, despite his campaign, 'Ashan Nebniha' (So We Can Rebuild Egypt), being recently active in different governorates and supporting Sisi's nomination for a second term.
On August 23, 2016, President Sisi said in his interview with the journalist Yasser Rizk, "If the people want me to run for another term, I am under the will of people."
Sami Anan
The Supreme Committee of the Egyptian Arab Party announced on Thursday evening that they will back the former army chief of staff, Sami Anan, for the presidential elections.
Sami Balah, spokesman for the party, said that the party notified Anan with the decision, but that Anan was still considering the decision, and has not yet decided whether or not to run the election.
In an phone call with the 'Hona al-Qahira' (Here is Cairo) program, Balah added that the party will hold a press conference to announce the details of Anan's potential candidacy for the election.
In the past, Anan ran for president, contesting with Sisi, but he backtracked on his decision and pulled out of the running just a month later.
Khaled Ali
Rights lawyer Khaled Ali is seeking to complete the candidacy procedures to make himself legible for candidacy. He asked supporters of the January 25 uprising to collect the 25,000 signatures required before January 25.
Speaking at a press conference on Thursday, Ali said he was subject to "harassment" blocking his campaign, adding he was "struggling for guarantees of a free and fair electoral process."
Ali had already competed in 2012 presidential election, which was won by Muslim Brotherhood candidate Mohamed Morsi.
Mohamed Anwar al-Sadat
In an interview with al-Masry al-Youm on July 16, Mohamed Anwar Sadat, head of the Reform and Development Party, revealed that he is seriously considering running for president, after being asked by politicians, youth, and laborers to run for president.
Sadat, a former MP, stressed that running for the presidential elections is "a constitutional right for any citizen." He added that "confronting a person of the size and popularity of President Abdel Fattah al-Sisi needs one to think seriously because his candidacy is not for the [sake of fame] but he seeks to achieve a strong result."
Thus far, Sadat has not yet officially announced he will run for president. On Wednesday, he said that he will hold a press conference on Monday 15 to announce his final position.
He added that the electoral campaign supporting his candidacy is ongoing across different governorates to asses the situation and help him decide whether he will run for president.
Sadat submitted a letter to the Speaker of the House of Representatives requesting that three members of his campaign meet with MPs to promote his platform among MPs who have not yet endorsed a specific presidential candidate.
Edited translation from Al-Masry Al-Youm