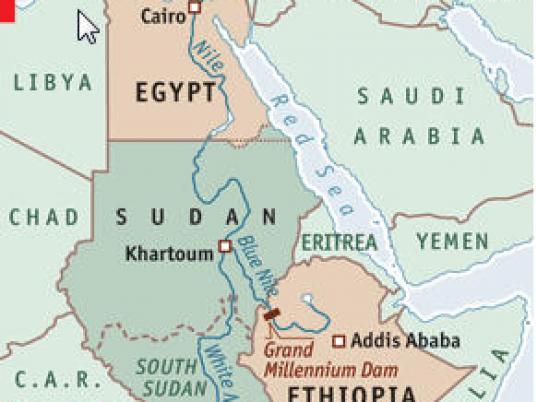 Minister of Water Resources and Irrigation Mohamed Bahaa Eddin said on Tuesday that the dispute over the Entebbe agreement between the Nile Basin countries does not prevent cooperation between them.
The dispute between the upstream and downstream states can be resolved in the future through dialogue, he added.
Bahaa Eddin said at a press conference Tuesday that "preparations for the meeting of the Nile Basin countries to be held in Rwanda by the end of this month have been discussed, in addition to economic cooperation with the Nile Basin countries."
The minister stressed that the Tripartite Commission — made up of Egypt, Sudan and Ethiopia — would meet on 8 October in Addis Ababa to discuss the effects of the Renaissance Dam in Ethiopia on both Egypt and Sudan. They will visit the dam site along with experts undertaking studies on the effects of building the dam on Egypt and Sudan.
President Mohamed Morsy visited Addis Ababa as the head of Egypt's delegation at the African Summit in July.
Prime Minister Hesham Qandil will visit South Sudan next week to discuss joint cooperation, Bahaa Eddin said.
"There is a development project [being prepared] for the Nile Basin countries that costs about US$100 million," Bahaa Eddin said. "Mega projects between Egypt and the Nile Basin countries will have international funding," he added, noting that Qandil is discussing extending the route between Cairo and Khartoum to reach Addis Ababa, in order to increase commercial exchange.
Ethiopia, Uganda, Rwanda, Tanzania and Kenya signed the Entebbe agreement in April 2010, which stipulated the redistribution of Nile water. Egypt and Sudan had both boycotted the talks, and Egypt declared the agreement to be non-binding. Burundi joined in March 2011, making it more likely for the agreement to go into effect.
Egypt has said on a number of occasions that it will not accept an agreement about water redistribution that does not guarantee its historical rights. According to an agreement signed with Sudan in 1959, Egypt's share of Nile water is estimated at 51 billion square meters annually, while Sudan's share is estimated at 18 billion square meters.
Edited translation from Al-Masry Al-Youm