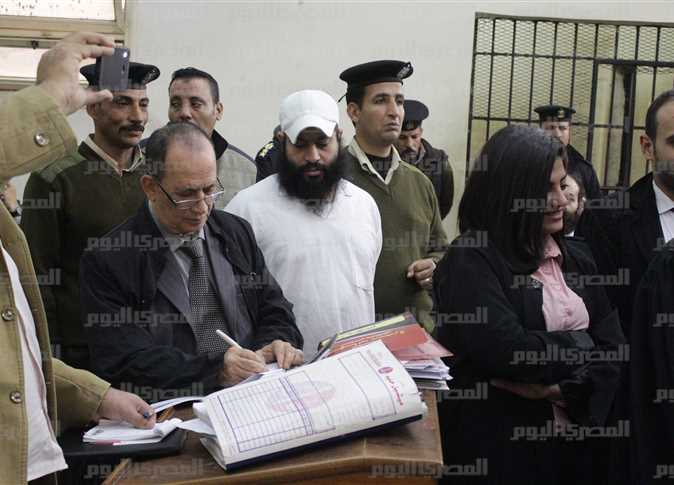 The Damanhour Criminal Court has sentenced to death the two monks responsible for the murder of Bishop Epiphanius, referring their papers over to Grand Mufti Shawky Allam on Saturday.
The court set April 24 to read the verdict. A referral to the mufti is required in the Egyptian court system ahead of death sentences, though the mufti's opinion is advisory and not binding.
Defendants Wael Saad Tawadros, formerly known as Ash'eyaa al-Makary, and Raymon Rasmy Mansour, formerly known as Faltaous al-Makary, previously pleaded not guilty in the case.
The court heard the prosecution plead after the prosecution showed video records of the first defendant confessing to the crime and reenacting how he committed the murder.
The defendant has denied his involvement in killing Bishop Epiphanius in previous sessions, claiming that he was abused and pressured into confessing by investigators.
The Interior Ministry's Criminal Investigations Department said that police investigated Tawadros in the monastery without resorting to force or pressure during the investigations.
Back in July 2018, Bishop Epiphanius was found dead in front of his monastic cell at the Saint Macarius Monastery at Wadi al-Natroun. Monks at the scene immediately notified al-Natroun police, who discovered that the Bishop had fractures in the back of his skull leading to suspicion of murder.
After the Public Prosecution office in Alexandria concluded investigations in August, Tawadros and Mansour were sent to criminal trial over the murder.
Tawadros confessed to the killing, and was deprived of his ecclesiastical rank.
He claimed that he hit Epiphanius three times on his head using an iron tube, which was prepared specifically for the crime. He added that his partner in crime Mansour was making sure the coast was clear.
Mansour later unsuccessfully attempted suicide on August 6 to escape punishment, and underwent police watch at the Anglo American Hospital in Zamalek while recovering.
Edited translation from Al-Masry Al-Youm