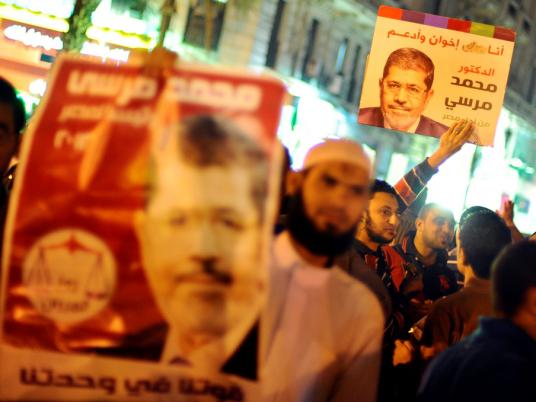 Hussein Abdel Ghany, the media spokesperson for the National Salvation Front , accused the Muslim Brotherhood of resorting to Mubarak-era tactics to discredit the opposition.
Front leaders Mohamed ElBaradei, Hamdeen Sabbahi and Amr Moussa are under investigation on charges of treason as per the instructions of the Brotherhood's guidance bureau, Abdel Ghany said, claiming that this indicated a narrow understanding of democracy.
"Repeated attempts to discredit the opposition is a Mubarak-style method to terrorize political opponents," he told Al-Masry Al-Youm.
Such charges won't terrorize the opposition or stop them from peacefully fighting against the Brotherhood dictatorship and tyranny under the name of religion, Abdel Ghany continued.
"I say to the leaders of the Muslim Brotherhood: Do not follow the same methods of the former regime … The Salvation Front will support peaceful protests and will not back down on battles against tyranny," he said.
Prosecutor General Talaat Abdallah agreed to assign a judge to investigate allegations of treason levied against the members of the front.
Al-Sayed Hamed, a member of the executive bureau of the Lawyers Syndicate's Freedoms Committee, filed the charges along with his colleague, Nasser al-Asqalany.
The National Salvation Front is a coalition of 15 liberal parties opposed to the recently instated Constitution. Its members claim the constitutional referendum was rigged. Prior to the referendum, the front led demonstrations against the Constitution in front of the presidential palace. At least 10 died in the course of clashes with supporters of President Mohamed Morsy.
Hamed is also bringing charges of treason against former presidential candidate Ahmed Shafiq, Dubai police chief Dahi Khalfan, Judges Club head Ahmed al-Zend and Supreme Constitutional Court Vice President Tahani al-Gebali.
Filing criminal charges against opposition figures was a common practice during former President Hosni Mubarak's era.
Ghad al-Thawra Party leader Ayman Nour was sentenced to five years in prison in December 2005 for allegedly forging signatures to enable him to register the Ghad Party. The party had been approved in 2004. Nour was released from prison in February 2009.
Nour finished second after Mubarak in the presidential election in September 2005. Some observers argued that the case was punishment for his unexpected bid for presidency.
Edited translation from Al-Masry Al-Youm