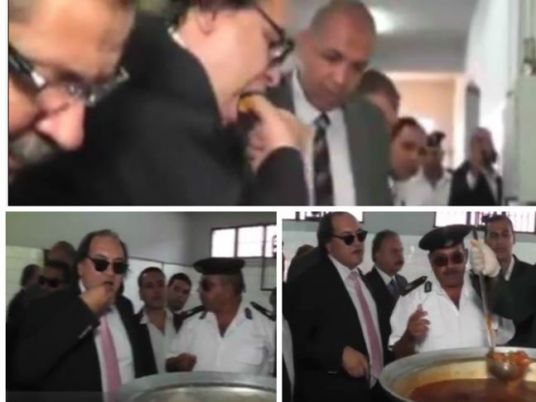 "There is no systematic torture in Egyptian prisons," said the head of Egypt's National Council for Human Rights (NCHR), Mohamed Fayeq, following a recent visit by council members to al-Aqrab Prison, Egypt's most famous high-security prison facility and one section of the Tora prisons' complex, south of Cairo.
The 2,000-word statement issued by the NCHR after the visit could be summarized as: "Everything is alright". However, many rights activists and lawyers were dismayed by the account, accusing the council of wearing rose-colored glasses during their visit to the facility.
The council, which declared its findings late last week, said it witnessed ongoing and unhindered visits to prisoners by their relatives, cafeterias and clinics that were working around the clock, a suitable library and good meals, which the NCHR members tasted and approved in front of the flashing cameras held by journalists.
The favorable commentary was met with a mixture of anger, controversy and sarcasm by activists, former al-Aqrab Prison inmates and the relatives of current prisoners.
Hafez Abu Saada, a NCHR member, told Al-Masry Al-Youm Sunday that the prisoners he met during the visit said they had not been subject to any form of torture. He added that the only complaints he heard were related to insufficient breaks for walking and exercise, and having to spend 23 hours in solitary confinement.
But another member of the council disagreed, even going so far as to boycott the press conference at the end of the visit which he described as a "charade".
Mohamed Abdel Quddous told Al-Masry Al-Youm that what the NCHR delegation saw at the prison was a "charade". He unveiled that while the delegation was originally scheduled to visit Abu Zaabal prison, another major prison facility in Cairo, the NCHR's chief told them that a change in plans had occured and that the visit would take place at al-Aqrab prison instead.
"It was very clear that the prison was well-prepared for the visit, which is not unusual. Prisons are typically in their finest form when there is an inspection," Abdel Quddous stated. "I visited the prison's kitchen and tasted the luxurious meals, there is no way that was a prison meal…I was not duped by that charade," he added.
"Four people died at hospitals over the past few months, all coming from al-Aqrab Prison," said Abdel Quoddous, adding that health care negligence was very obvious at the facility where, he says, inmates are hospitalized "at the last minute".
He also quoted inmates' families as saying they had been denied visits to their loved ones, an allegation denied by the wardens. "I have learned that the prison's administrators have visitors sign in but then deny them entry. Those logs are later shown to inspectors as evidence that families are not denied visits," said Abdel Quddous.
Gama Eid, director of the Cairo-based Arab Network for Human Rights Information, said that based on the visit, the NCHR is merely "polishing the government's image". Eid accused the council of "wasting every opportunity to restore its credibility and defend prisoners' rights".
Former prisoners also spoke of extraordinary attention given to prison facilities ahead of inspections.
Ahmed Gamal Zeyada, a photojournalist who had spent nearly 18 months in Tora Prison before his release last month, said it was clear that better meals were served ahead of such visits.
"Right ahead of any visit, there would be more food, meat and vegetables and people were always amazed by those changes," Zeyada told Al-Masry Al-Youm.
"Prisoners were threatened against voicing any complaint…I was personally intimidated by the prison's chief detective," Zeyada said, adding that though he had sat down with NCHR members and recounted violations, council members were only given access to areas permissible by the prison's authorities.
Ola al-Refaie, the wife of Magdy Qurqur, a former Muslim Brotherhood parliamentarian and an Al-Aqrab inmate, said the NCHR report was "totally untrue", adding that the delegation had spoken to the prison's administration rather than the prisoners".
She said that while the prison had agreed to transfer her husband to the hospital because of his failing health, bad treatment and denial of medication persisted after he was returned to his cell.
"We sat from 5 am waiting to visit him. They would register our names and then tell us that the Interior Ministry had halted visits," al-Refaie told Al-Masry Al-Youm, adding that their names were later submitted to the NCHR members.
Bahgat al-Anadoly, a university science professor, is another al-Aqrab prison inmate who was mistreated by his wardens, according to his daughter, Shaimaa. Anadoly was arrested in October 2014 over charges of raising funds to finance protests by the outlawed Muslim Brotherhood.
Miss Anadoly said the NCHR delegation's movements inside the prison were restricted by the prison chief.
Speaking of her father's prison stretch, Miss Anadoly told Al-Masry Al-Youm that prisoners' personal possessions were all taken away in March, including blankets and clothes, and visits were denied.
"They used to cut off water and electricity when temperatures were at their hottest," Abadoly says. "They provided prisoners with meals that are not sufficient for a child…and also denied us medication".
Miss Anadoly called upon the NCHR to be impartial in dealing with both the government and inmates so as not to "provoke anger among prisoners' families".
Edited translation from Al-Masry Al-Youm