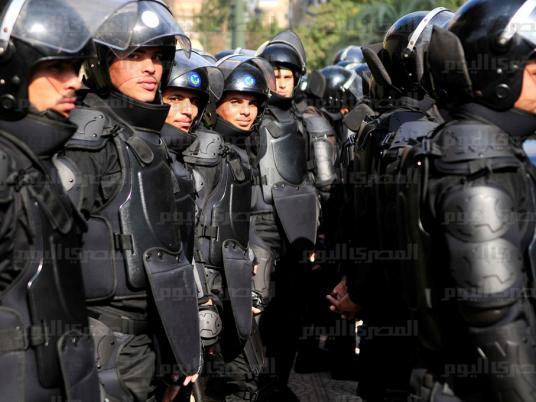 A number of Central Security Forces personnel in Alexandria were seen stumbling and falling to the ground during clashes with protesters, apparently as a result of their new uniforms.
The heavy weight of the uniforms and their stiffness seemed to impede the movement of some, as evidenced by video showing CSF personnel charging toward clashes but then suddenly sprawling onto the pavement.
At the end of 2012, the Interior Ministry decided to change the outfits worn by Central Security Forces personnel to ones that better covered and protected their bodies against stones, glass, bladed weapons, bird shot and Molotov cocktails.
The tumbles came during clashes that raged in front of the Alexandria Criminal Court Sunday while the was reviewing a case on the killing of Alexandria protesters during the 25 January revolution. The court has declined to issue a verdict in the case.
The Central Security Forces are quasi-military forces that are affiliated with the Egyptian police and answer to the Interior Ministry. Their main mission is ostensibly to preserve order and confront uprisings and riots. However, many human rights groups have claimed that the Central Security Forces are used solely to crush dissent. Allegations of human rights abuses and brutality by the Central Security Forces are widespread.
Many Central Security Forces personnel are military conscripts who are turned down by the Armed Forces for lack of education or vocational skills and dumped into the forces. Conscripts complain of low pay, poor work conditions and abuse from superiors.
Edited translation from Al-Masry Al-Youm