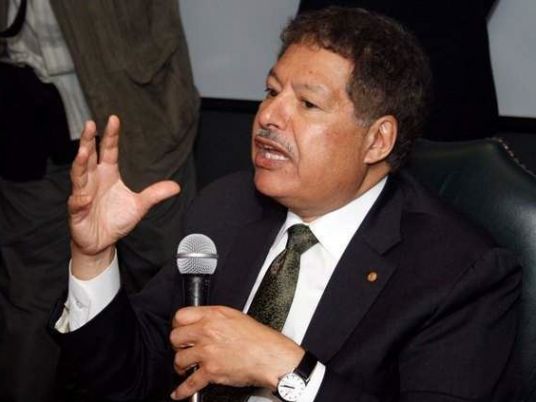 Police and special operations forces from the Giza security directorate were deployed on Sunday to secure all roads leading to 6th of October City cemetery, where the body of late Noble Prize Laureate Ahmed Zewail was buried following his funeral on Sunday morning.
A police vehicle and a number of special operations personnel were stationed every 100 meters along al-Wahat Road, while ambulances and fire engines were on standby around the perimeter of the cemetery as the Egyptian flag-wrapped body was lowered into the ground at the Zeweil family's burial plot.
Earlier on Sunday, President Abdel Fattah al-Sisi arrived at the grand mosque of Al-Mushir Tantawi, Cairo, as head mourner at Zewail's military funeral. Many notable figures attended the occasion, including Prime Minister Sherif Ismail, Grand Sheikh of Al-Azhar Ahmed al-Tayeb, Defense Minister Sedky Sobhy, former President Adly Mansour and the renowned Egyptian-British surgeon Sir Magdi Yacoub.
"This is a very sad day for humanity," said Sir Yacoub. "We lost a scientist who had an impact on the people of the whole world… He showed a real interest in Egyptian science in the form of Zewail City [of Science and Technology]," Yacoub said.
Zewail, an Egyptian-American chemist who was science and technology advisor to President Barack Obama and the first US science envoy to the Middle East, died suddenly on Tuesday in the United States, at the age of 70.
He was the sole recipient of the Nobel chemistry prize in 1999 for his pioneering work in femtochemistry, the study of chemical reactions in ultra-short time scales.
The family of Zewail gathered at Cairo International airport on Saturday to receive the late scientist's body, repatriated from the States. According to Zewail's spokesperson, he had been suffering with cancer of the spine in recent years, but had undergone succesful treatment and was in remission at the time of his passing away. The laureate's abrupt death was put down to a virus.
The revered chemist's death prompted President Sisi to call for redoubled efforts in completing construction of the eponymous Zewail City of Science and Technology in 6th of October City. The president's announcement came during the first anniversary celebrations of the new Suez Canal's inauguration on Saturday.
Edited translation from Al-Masry Al-Youm