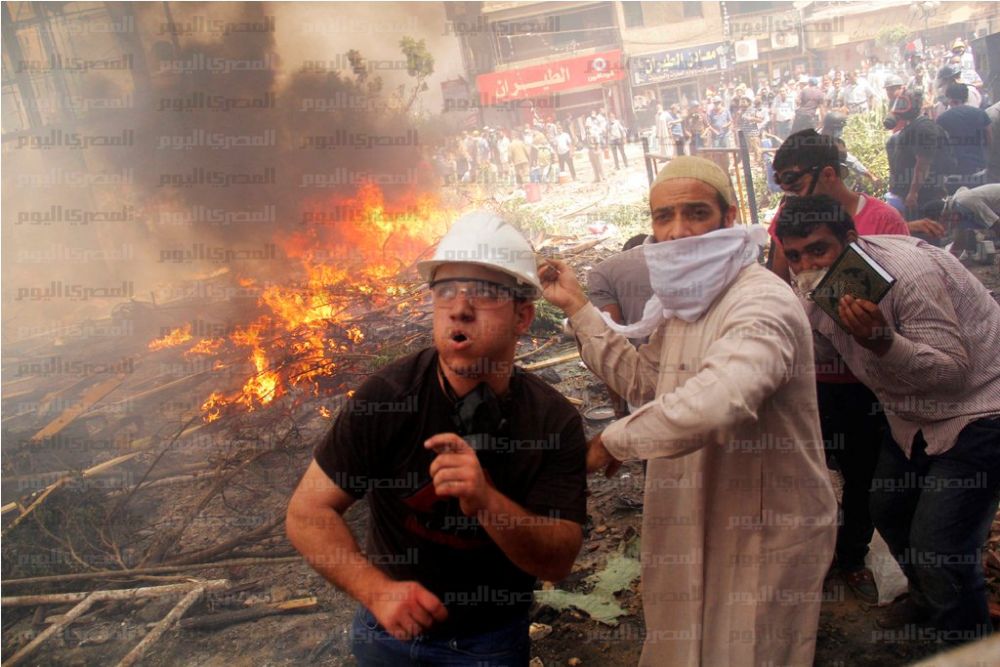 Major General Abdel Fattah Othman, Assistant Minister of Interior for Public Relations denied that the Ministry had specified 25 minutes to break up the sit-in of supporters of toppled President Mohamed Morsy at Rabaa al-Adaweya Square on 14 August last year.
The dispersal led to the killing of around 600 mostly unarmed protesters by the army, according to the Egyptian Health Ministry, an event which was called by Human Rights Watch "the most serious incident of mass unlawful killings in modern Egyptian history."
Othman claimed the protesters were the ones who began to fire at the security forces and used Molotov cocktails against them.
Othman added in a phone-in with Momken program on CBC Channel Wednesday: "The sit-in dispersal plan was clear and we discussed the breakup measures with rights activists in accordance with legal measures."
"There must have been a deterrent force for the gunmen in Rabaa al-Adaweya," he argued.
Salah Salem, a member of Rabaa al-Adawweya fact-finding committee, said the report which was announced by the National Council for Human Rights, on Wednesday, was prepared by a credibile and impartial party.
The report did not flatter anyone, it recognized reality, he said. The security asked the protesters to evacuate, but they did not respond, Salem added.
Salem said in an interview with al-Balad program broadcast on Sada al-Balad Channel, on Wednesday evening, the attack was mutual between Rabaa al-Adaweya stage and media as the first called for violence and the latter claimed that the sit-in was armed and illegal.
The eviction was according to the permission of the prosecution and protesters started the shooting according to the committee's report, Salem said.
The National Council for Human Rights in Egypt held Morsy supporters responsible for the killing of hundreds of protesters during the dispersal of the security forces to Rabaa al-Adaweya sit-in in August 2013.
The report criticized the security for the excessive use of force against protesters and blamed protesters for using civilians as "human shields " in the face of the security forces.
The report said that the sit-in began peaceful, but organizers allowed armed elements to enter the sit-in later.
According to the report, which was announced Wednesday in a press conference, the security forces were attacked with firearms at the beginning but disappropriately responded with heavy fire.
Six hundred twenty-four civilians and eight policemen were killed during the dispersal, according to the report.
Morsy supporters claim that over 3,000 protesters were killed during the dispersal of the sit-in and that dozens of bodies were burned.
Edited translation from Al-Masry Al-Youm