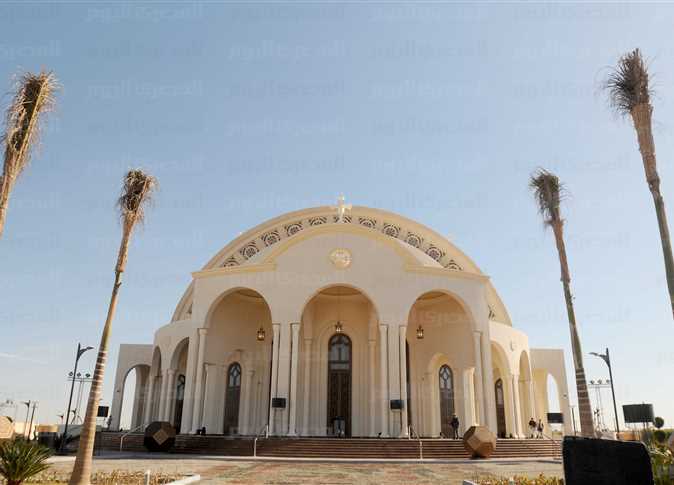 Pope Tawadros II of the Coptic Orthodox Church in Alexandria will preside over Christmas Mass on Monday in the New Administrative Capital, with officials from government ministries, governors, parliamentarians and public figures expected to attend, according to the Coptic Orthodox Church Media Center.
The center clarified in a statement that buses have been allocated for the event to transport individuals with an invitation to the ceremony at 2:00 pm to the New Capital. VIP attendees are set to enter the ceremony through Gate No.1, while public visitors and media professionals will enter through Gate No.3., which will not allow vehicles.
On Tuesday, January 7, the day many Orthodox Christians around the world celebrate Christmas, Pope Tawadros II will receive bishops, priests and the churches' councils from 9:00 am until 11:00 am at Saint Mark's Coptic Orthodox Cathedral in Abbassia, the center noted.
Pope Tawadros II will receive senior governmental officials and heads of diplomatic missions later that afternoon, the center reported, adding that visitors and journalists will be allowed to enter the Cathedral through Gate No.1 on Ramses Street.
Meanwhile, the Egyptian Television and Radio will also broadcast the Mass on January 6 on satellite channels and radio stations across the country.
Security preparations for Christmas Day celebrations across Egypt are also underway, in light of extremist violence that have left scores dead in the country in recent years. The Minya Security Directorate has stationed security personnel at various churches, establishing as well a security plan in coordination with the armed forces to protect those taking part in the celebrations.
In December 2016, a suicide bombing in a church adjacent to St. Mark's Cathedral in Egypt left 25 people dead, and in April the next year, twin suicide bombings targeting churches in Alexandria and Tanta left 45 people dead.
Elsewhere, the Qena Security Directorate finished preparations on Sunday to secure various establishments, churches, and monasteries in cities across the governorate.
The chief of Qena Security Directorate Sherif Abdel Hamed has finalized security preparations to protect the governorate's churches and monasteries from violence during the Christmas holiday. The plan included installing metal detector gates at church entrances, iron barriers near the churches, and preventing any cars from stopping too close to Church buildings.
Christians account for about 10 percent of Egypt's predominantly Muslim population.
Edited translation from Al-Masry Al-Youm