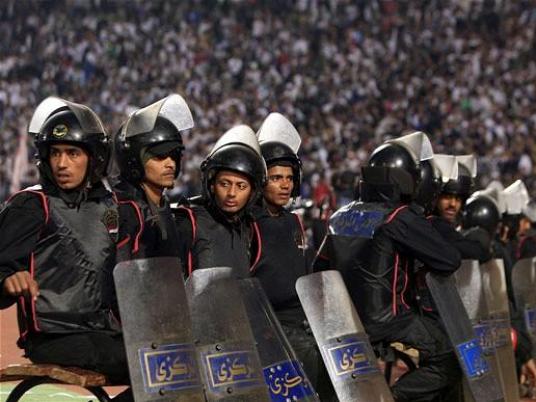 Port Said Criminal Court will resume on Sunday the trial of 73 suspects accused of involvement in violence at a football match. The court will hear testimonies during the session.
Violence that broke out at a match between Ahly and Masry football teams in Port Said on 1 February left 74 dead. The visiting Ahly club fans were attacked after the match ended.
Many accuse security and police of wilful negligence, as fans entered the stadium with weapons, the stadium's steel doors were locked during the massacre, and the lights were turned off.
The court heard the testimonies of prosecution witnesses on Saturday. Ahly fan Ahmed Tareq Abdel Fattah said Ahly fans were allowed access to the game without undergoing any security checks.
He said some Masry fans launched fireworks at Ahly fans during half time, but security made them go back to the stands.
Abdel Fattah said he saw one of the suspects hanging a fan with a scarf. He said he could recognize the suspect when prosecutors showed a photo of him.
The witness denied that Ahly fans had raised banners insulting Masry fans during the game.
Another witness, Ahmed Hany Ahmed Shaker, said three Masry fans tried to kill him after the game by pushing him off the back fence of the stands, but he was able to escape from them.
Another person poured gasoline on him, he said, and another tried to disfigure the Ahly fans' faces by holding fireworks to them. Shaker said he held them off with chairs.
Another person stole his wallet and mobile phone, he said.
Shaker said that during questioning sessions he recognized one of the suspects he says attacked the Ahly fans, and the person who he says robbed him.
Edited translation from Al-Masry Al-Youm