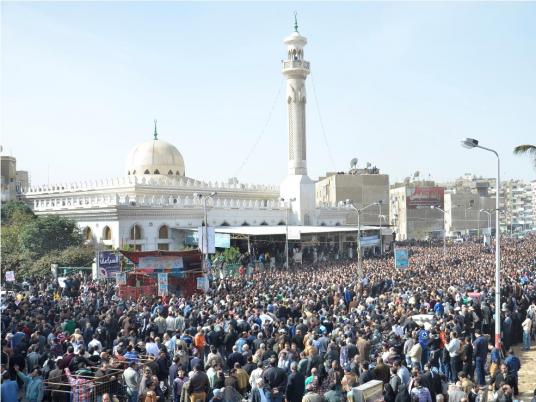 Port Said entered its eighth day of a mass civil disobedience campaign on Sunday in response to the killings of protesters during clashes with security forces last month.
Groups of demonstrators closed down the Raswa and Nasr customs checkpoints and halted railway movement, while more than 35,000 workers from other governorates were blocked from working in the province's free zone.
Protests have rocked Port Said since the end of January, when a court sentenced 21 local residents to death for the murders of 72 people in the Port Said football violence case. Protesters have also demanded justice for the deaths of nearly 40 people during clashes with security forces following the verdict.
The strike has shut down activities at several government authorities, including the Port Said seaport and the Customs Authority. Mass school absences have also been reported governorate-wide, and bus drivers have gone on strike, grinding transportation to a halt.
Dock workers have also continued striking at the seaport. Clerics affiliated with the ruling Muslim Brotherhood have tried to negotiate with them to end the strike but have so far been unsuccessful.
Edited translation from MENA