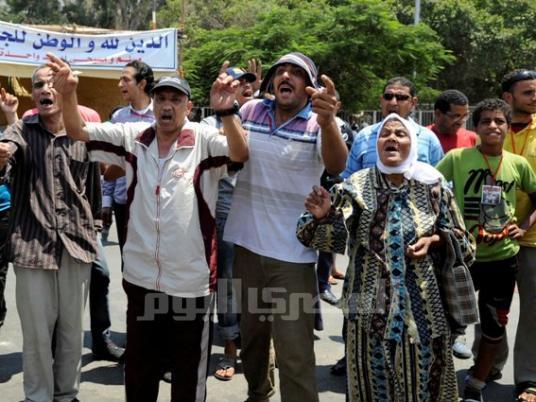 Dozens of supporters of the Supreme Council of the Armed Forces began to gather at the Memorial of the Unknown Soldier in Nasr City, Cairo on Friday to protest against President Mohamed Morsy.
The protest was called for by the pro-SCAF Silent Majority group and former MP Mohamed Abou Hamed to demand the dissolution of the Constituent Assembly, the full application of the supplementary constitutional declaration, and the disbandment of all religious political parties, as well as the Muslim Brotherhood.
State-run MENA news agency reported that the protesters set up a stage to broadcast the events of the demonstration.
Al-Masry Al-Youm said that the protesters raised a banner demanding that Morsy respect the law and the constitution. They also stressed the need for a civil constitution.
Abou Hamed tweeted Thursday, "I call on you to participate in the protest to support the Supreme Constitutional Court and the rule of law."
"The Muslim Brotherhood and their allies the April 6 Youth Movement rally in the square against legitimacy and the judiciary. We all should go to the memorial to defend legitimacy and the Constitutional Declaration," Abou Hamed said.
The Memorial of the Unknown Soldier in Nasr City has become a frequent location for protests supporting the SCAF and former presidential candidate Ahmed Shafiq.
Edited translation from Al-Masry Al-Youm