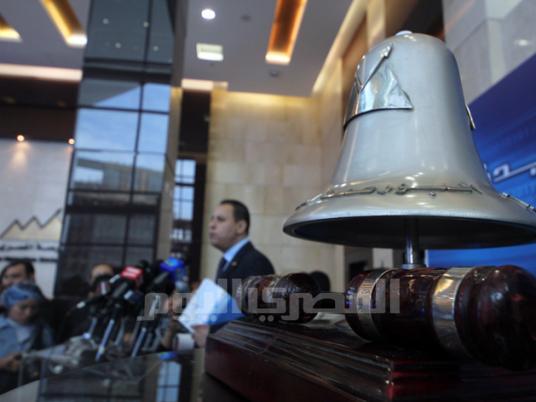 The Egyptian stock market submitted a list of the names of 21 Egyptian and Saudi businessmen to key financial institutions on Sunday after Public Prosecutor Talaat Abdallah banned them from travel and ordered their funds frozen for violating the rules of the stock market.
The list was submitted to Misr for Central Clearing, Depository and Registry, brokerage companies and the department for portfolios and investment funds.
Among those included in the ban are Ayman Fathi Hussein Suleiman, chairman of the Watany Bank of Egypt, the two sons of former President Hosni Mubarak, Alaa and Gamal, Alaa Mubarak's wife Heidi Rasekh and former Information Minister Anas al-Fiqqi.
The Public Prosecutor's decision is part of ongoing investigations into the sale of the Watany Bank of Egypt for which the former president's two sons and five others are on trial.
In May 2012, Gamal and Alaa, together with other officials from the bank's board, were referred to a criminal court, charged with violating the stock market and Central Bank rules to illegally profit from trades on shares of Watany Bank of Egypt.
The named businessmen have responded by deciding to freeze their direct and indirect investments in Egypt.
Sources close to the implicated businessmen said they include Abdel Rahman al-Sharbatly, the owner of City Stars mall, Hesham el-Sewedy, a Saudi-Egyptian, and Suleiman Abu Nami, the biggest investor in the Egyptian stock market over the past 20 years, and Hussein Heikal, an Egyptian investor.
An official from a stock market investment fund said the threats to freeze their investments may be an attempt to put pressure on the Egyptian government.
The same source said the decision can also be attributed to the mismanagement of economic affairs in Egypt and the lack of protection for serious investors, who are sometimes even intentionally targeted.
A prominent Saudi businessman said the names of some businessmen were intentionally dragged into the case without justification. Some of them have never met with Gamal Mubarak, and another has investments in Sharm el-Sheikh worth LE5 billion, he added.
In a telephone conversation with Al-Masry Al-Youm, the same source said no-one can predict how much damage this case will cause to investment in Egypt.
The source also said that four of the people implicated in the case are among the biggest investors globally not only the Arab world, adding that the conditions for investment in Egypt are not good.

According to official statistics issued by the stock market, net sales by Arab investors stood at LE549 million from January to Sunday's session.
Edited translation from Al-Masry Al-Youm