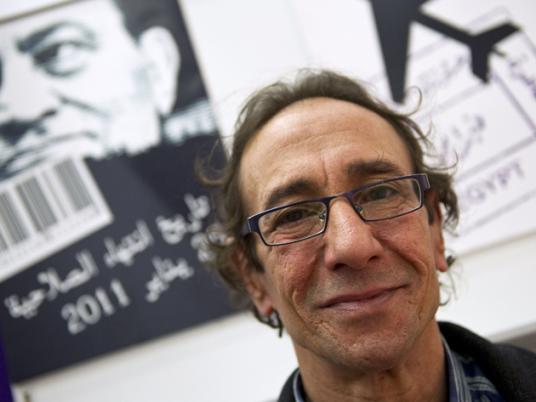 Publisher Mohamed Hashim has instructed his lawyer to file a complaint with the attorney general against the ruling Supreme Council of the Armed Forces (SCAF), accusing it of libel.
In a Monday press conference, the SCAF accused Hashim of incitement against the army. It broadcast a video clip of him distributing helmets and gas masks among protesters.
"I am proud to have done so," Hashim said. "I don't consider it a crime."
"I wish I had more helmets and masks to protect the honest rebels in the street from that killer council. Those killers were appointed by Mubarak to liquidate Egypt's youth and finish them off with deadly gas."
"The council wants to deprive the Egyptian people of their legitimate rights for dignity, freedom and economic and social justice," he said, calling on political forces to work on dismissing the ruling military council.
Hashem called on writers, journalists and intellectuals to stage a vigil outside his company, the Merritt Publishing House, on Monday in protest.
Some writers and journalists have posted a statement on the internet, declaring their solidarity with the publisher, and saying that "Arab and Egyptian intellectuals and politicians express their appreciation of the role Hashim and his publishing house played in the glorious revolution of 25 January."
The statement's signatories also said that "incitement by the military council is a provocation against the publishing house that has raised the banner of enlightenment since its inception and has adopted the hopes of the Egyptian people in the face of tyranny and oppression."
They also said that charges indirectly leveled at the publishing house and its director by Major General Adel Emara, member of the military council, reveals a clear intention to reverse the revolution.
Translated from Al-Masry Al-Youm