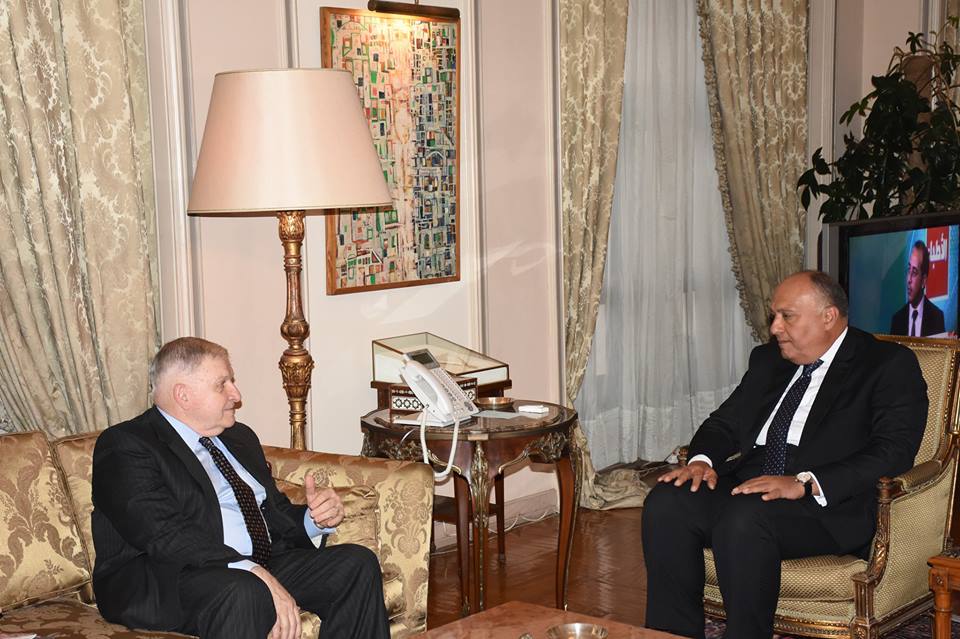 Egypt's Foreign Minister Sameh Shoukry said during his meeting with a US delegation that Qatar is still playing negative role in supporting terrorism and extremism.
According to a statement released from the official spokesperson of the Foreign Ministry, Ahmed Abu Zeid, Shoukry received on Monday a US delegation assigned to end the Arab countries' diplomatic crisis with Qatar.
"During the meeting, Shoukry clarified to the delegation the negative role played by Qatar in providing shelter or financial support to 'terrorists', alongside its role in spreading hate speech and interfering in Arab countries' internal affairs," the statement read.
Meanwhile, Shoukry discussed with the delegation the efforts and meetings it has held to end the diplomatic rift, through a number of tours across the Middle East. Shoukry hailed the efforts made by Kuwaiti Emir Sabah Al-Ahmad Al-Jaber Al-Sabah to end the crisis.
Moreover, Shoukry said that it is vital for Egypt, Saudi Arabia, the UAE, and Bahrain to cooperate to ensure Qatar meets the 13 demands previously made by the countries, as conditions to pave a way for reconciliation.
"The [four] Arab countries are ready to engage in a dialogue with Qatar when it starts to implement all conditions previously sent and suspend its ongoing support to terrorism," Shoukry noted.
In June 2017, six Arab countries, including Egypt, Saudi Arabia and the UAE, declared a diplomatic boycott of Qatar and accused the nation of supporting terrorism and violating their sovereignty.
Following the diplomatic boycott, the Arab countries stipulated through Kuwait – which has been acting as a mediator – a list of 13 conditions set to pave the way for reconciliation with Qatar.
These 13 demands included the suspension of financing opposition figures in the Arab countries, and not providing shelter for leaders of the Muslim Brotherhood, in addition to the suspension of suspending world-renowned Qatari news channel Al-Jazeera.