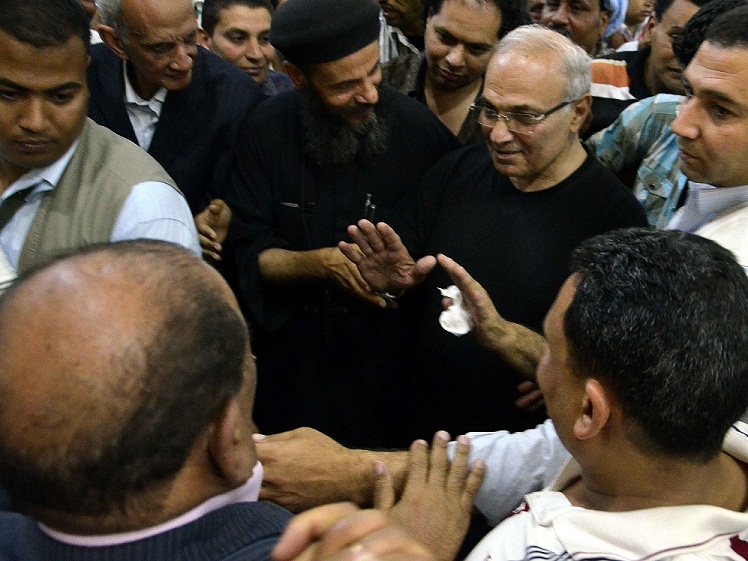 Egypt's former Prime Minister Ahmed Shafiq called on security authorities to provide an explanation for the arrest of three of his supporters, saying "the situation is serious."
Security authorities  arrested Shafiq's supporters for the upcoming presidential elections on Wednesday. Reuters cited security sources as saying that the detainees were charged with spreading false information harmful to national security.
Wael Fouad, brother of one of the suspects detained, said security forces had arrested his brother Hani at the family's home in a suburb of Cairo. He added that his brother was "very close" to Shafiq.
In a tweet on Saturday, Shafiq, who heads the Egyptian National Movement Party, apologized to the detainees and their families.
He said: "I strongly apologize to any young man who was detained because of his personal relationship with me, or because he is a supporter for me, or that he was a participant and supporter for me in the 2012 presidential campaign."
"I apologize to them and their families if they are detained for these reasons. I call on the competent authorities to clarify the matter. The situation is serious and deserves further clarification as to whether there are other reasons for this detention," Shafiq added.
Shafiq's party also issued a statement on Saturday saying the that the detainees are not members of the Egyptian National Movement.
In statement to Al-Masry Al-Youm, the deputy head of the party Raouf al-Sayyed said that "If they are charged with calling for a demonstration to support Shafiq, then they must be arrested because they violate the [Protest] Law, and we do not violate the law, regardless of the support of any candidate."
He pointed out that Shafiq asked him to prepare a report on the size of his support in the street, and study the position of parties and political blocs and fronts that were formed earlier, and submit the report to him to decide his position on the candidacy in the 2018 elections.
Edited translation from Al-Masry Al-Youm