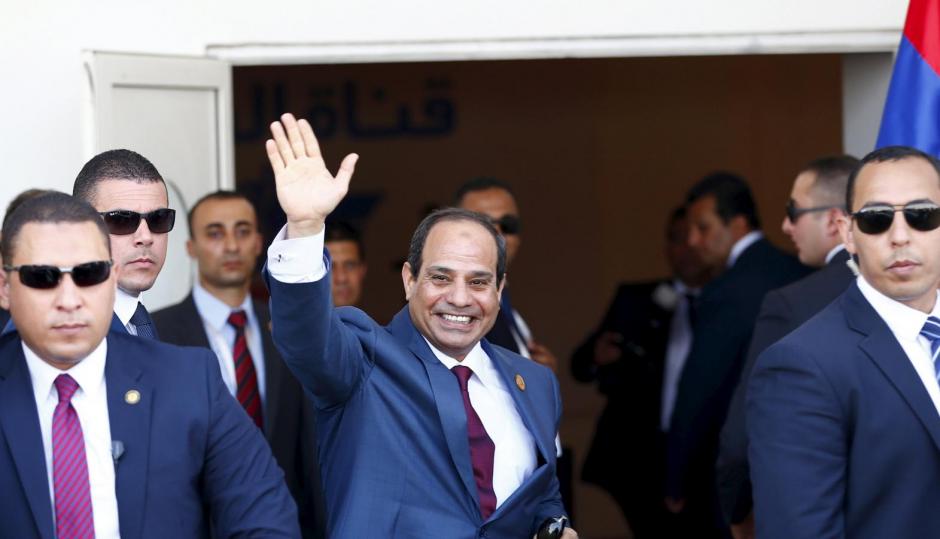 President Abdel Fattah al-Sisi thanked the Egyptian people in a speech after he was officially re-elected as president of the republic for a second four-year-term on Monday.
"The great homeland deserves our effort to instil hope and make a brighter future worthy of the sacrifices of its sons," he said, adding that Egypt can only progress and be protected by the efforts of its sons.
"Dear proud generous people who prove at all times that that they are vibrant people capable of challenging challenge itself, people who are capable of enforcing their free will and raising it above any whims or interests except the interests and objectives of the homeland, I am speaking to you today," he said.
"Renewing the covenant of honesty and transparency, which I have promised you, putting aside in my speech the rules of official language and usual linguistic structures, I will speak with the same pride that overwhelmed me as I closely followed up the scenes of your crowding in front of polling stations," he continued in his speech.
"You did not rally in this dazzling national image in order to choose a head of state, it was a rally to renew the covenant on a national path that the sons of the [homeland] decided to side with, and decided to fight the two battles of survival and construction."
"My pride of you is a firmly-rooted matter in my mind, and my faith in the genius of the Egyptian people is undoubted," Sisi said.
Sisi emphasized that he made national choices based on the will of Egyptians.
He praised the rallying of voters during the presidential election, especially women who he described as the "voice of conscience, the icon of challenge, and the symbol of sacrifice and strength against challenges."
"I have nothing to say but to convey to you all salutations, appreciation and respect for what you have done and are doing for Egypt."
Sisi promised an unshakable effort to strive for the development and stability of Egypt and to provide a decent living standard for all Egyptians without discrimination.
Sisi alsi thanked those who did not vote for him, emphasizing that in the next phase he plans to focus on creating common ground between all Egyptians.
He extended his gratitude and appreciation to the losing presidential candidate Moussa Mostafa Moussa, saying that he and his campaign members fought a fair and civilized national competition that reflected Moussa's patriotism.
Edited translation from Al-Masry Al-Youm