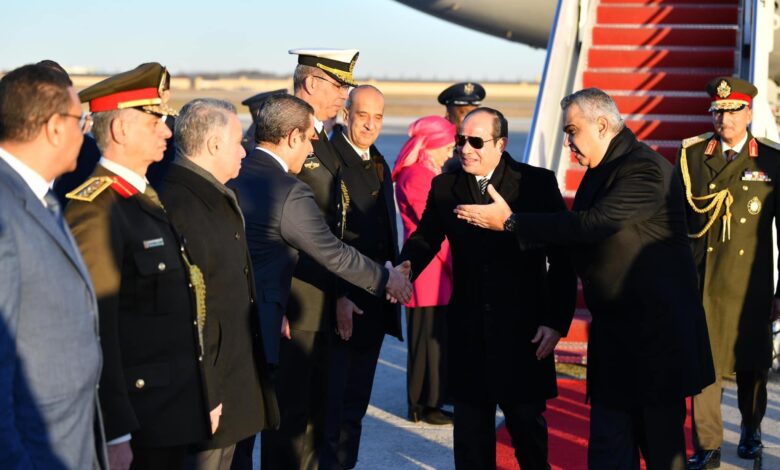 President Abdel Fattah al-Sisi arrived on Tuesday, at his residence in the US capital, Washington, to participate in the US-Africa Leaders Summit.
US President Joe Biden hosts 49 leaders of African countries in Washington, D.C. at the US-Africa summit.
The gathering is focused on issues of a number of economic and political files of common interest to the participating parties.
Over the course of three days, Washington will host a number of forums and meetings during the summit.
Discussions surrounding topics such as African young leaders, the US-African Space Forum, growth opportunities on the brown continent, and others.
The US administration expected to put the issue of the Grand Ethiopian Renaissance Dam on the agenda of the US-African Leaders Summit meetings in Washington.
During the summit, Egypt will present its comprehensive vision of the challenges facing the continent and the efforts it is making in resolving conflicts there.
Also other matters of importance for addressing are the development obstacles, confronting poverty and unemployment.
Egypt will also affirm the independence of African countries, which crystallized in Egypt's presidency of the 2021 African Union session, as well as bringing up African issues at the COP27 summit, which Egypt hosted in November in Sharm el-Sheikh.
The summit is  set to discuss pumping new US investments in Africa and food security, which has declined as a result of the war in Ukraine, in addition to other issues such as the climate crisis and issues of democracy and governance.
Africa comes together
Sources in the White House said that the summit will witness a large presence of African leaders, as US President Biden invited 49 African heads of state, including Egypt, Tunisia and Ethiopia, excluding four countries whose membership the African Union had suspended.
The Chairman of the African Union Commission, Moussa Faki Mahamat was among those invited, and 45 African heads of state and government confirmed their attendance to the summit, according to a statement by the White House.
The US-Africa Leaders Summit is receiving the attention of the American diplomatic and political circles.