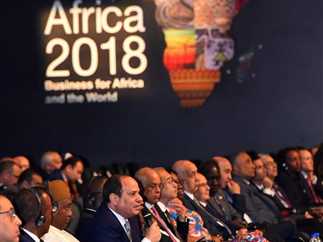 The "Africa 2018" forum held in Sharm al-Sheikh comes amid aspirations to achieve greater regional integration and to facilitate intraregional trade as well as increase investments between African countries, Egyptian President Abdel Fattah al-Sisi said..
He explained that this would be achieved through the implementation of joint and cross-border projects, especially in infrastructure, energy and information technology in light of the launch of the African Continental Free Trade Area (AfCFTA) by the African Union during the "Nouakchott Summit" in March.
In his speech at the opening session of the forum, Sisi said that Egypt aspires to achieve these goals through joint work under the umbrella of the African Union, which will be chaired by Egypt in 2019.
He reviewed the needs of African reform programs to meet its citizens needs and to cope with advanced technology, the digital economy and international efforts to address climate change.
The president added that Africa needs to pump investment in various fields in order for the reform process to be carried out effectively. This calls for investors from the continent and abroad to take advantage of promising opportunities in Africa in order to promote development and stability, he said.
Sisi referred to Egypt's keenness to increase its investments in Africa, saying it rose during 2018 from US $1.2 billion to $10.2 billion.
"The world sees your continent as a land of promising opportunities, especially as it is capable of achieving high rates of sustainable economic growth because of its enormous and diverse human resources and wealth," he said.
Sisi called on international donors to set conditions and criteria for financing African projects, which have different circumstances compared to the rest of the world, and stressed that time is crucial in this regard.
Edited translation from Al-Masry Al-Youm