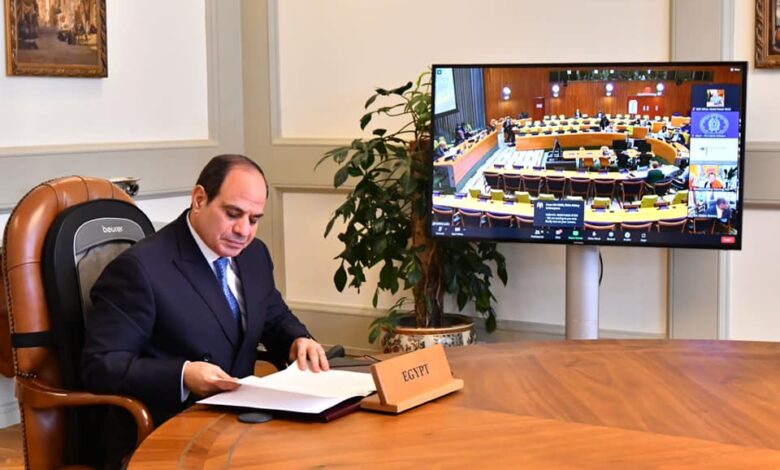 Egyptian President Abdel Fattah al-Sisi stressed any that unilateral measures must be dealt with that quicken the consequences of climate change, foremost of which is the construction of dams on international rivers without prior agreement with downstream countries.
This came during Sisi's speech via video conference at the meeting of heads of states and governments on climate on the sidelines of the 76th session of the United Nations General Assembly, which was broadcast by the Extra News channel on Monday.
Climate change poses more severe consequences for the African continent, he warned, and stressed the importance of working to produce the next session of the United Nations Conference on Climate Change, chaired by the United Kingdom, with tangible results in terms of financing climate action.
He also discussed efforts on how to deal with the impact of climate change.
The president further touched upon enacting adaptation efforts and the Green Climate Fund so that the burden on developing countries is lifted, especially in light of the current gap in climate finance between what developing countries need to implement their commitments and what is available.
Egypt and Sudan are in dispute with Ethiopia over the Grand Ethiopian Renaissance Dam it started to construct unilaterally on the Blue Nile river, one of the tributaries of Nile River, in 2011.
Egypt and Sudan say they want a legally binding agreement in this regard, while Ethiopia says any pact should be advisory.
Egypt and Sudan consider the dam a threat to their vital water supplies, while Ethiopia considers it essential for development and doubling its electricity production.
Egypt and Sudan fear possible blows to water facilities, agricultural land, and overall availability of Nile water.
The two countries presented the GERD issue at a UN Security Council hearing in July in hopes of bringing more international players into the negotiation process.
Negotiations over the dam between Egypt, Ethiopia, and Sudan have stalled for years, with the three parties ultimately failing to reach any agreements.
The UN Security Council issued a statement on GERD last week. It encouraged Egypt, Ethiopia and Sudan to resume negotiations, under the President of the African Union to finalize a binding legal agreement on filling and operating the dam.