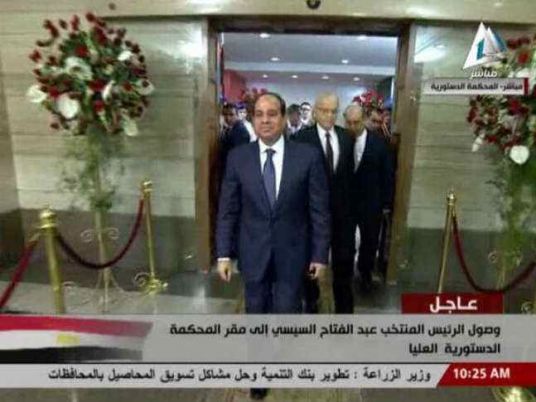 After he was sworn in as Egypt's seventh president of the republic, Abdel Fattah al-Sisi signed the document of power handover along with outing president Adly Mansour at the Ettihadeya Presidential Palace.
The document is the first of its kind in Egypt's political history, Sisi claimed, as it is the first time in Egypt power would be handed over peacefully.
Sisi described the period experienced by Egypt as a "historic moment and a unique milestone in the history of Egypt as the homeland has not witnessed a peaceful transition of power before," he said.
"For the first time we sign together the document of power handover in an uncharacteristic tradition that marks the beginning of a new historical era," Sisi added.
Mansour delivered his final speech and Sisi gave his first speech after he was officially sworn in on Sunday morning at the Supreme Constitutional Court.
"We succeeded in taking Egypt to the safe side despite the difficulties that we faced. I am completely confident we will succeed in completing the road map and will hold our parliamentary elections to turn the constitutional articles into a concrete reality through unprecedented laws that preserve freedoms," Mansour said.
"It is time for our people to harvest two great revolutions during which they have not spared themselves to achieve their legitimate hopes and aspirations," Sisi said.
"The revolutions' success lies in its ability to be effective and constructive in the new reality through hard work… away from chaos," Sisi added.
Sisi pointed out that he will continue to communicate with political forces for the benefit of the country.
Sisi also thanked Mansour for his ability to manage the affairs of the country during the past year.
"The people and the state of Egypt are thanking you for what you provided to the country in a year giving an evident example of self-denial and belonging. You were a competent and mannerly president who loves his homeland," Sisi said directing his words to Mansour.
Edited translation from Al-Masry Al-Youm