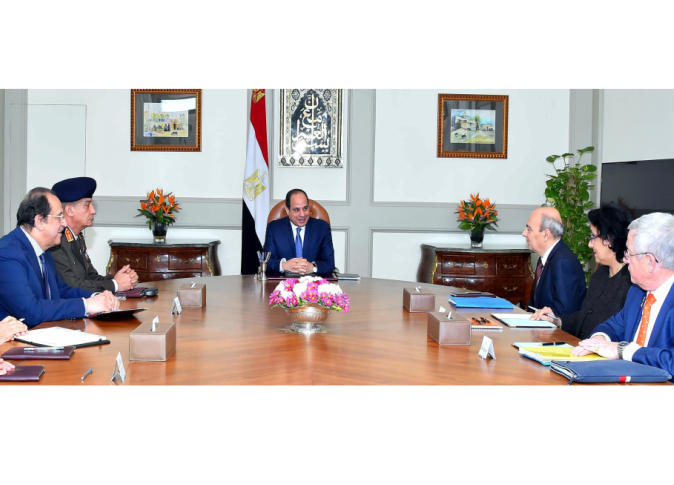 Egyptian President Abdel Fattah al-Sisi on Tuesday received Eric Trappier, CEO of Dassault Aviation, the multinational manufacturer of French Rafael fighter jets.
They met alongside Defense Minister Mohamed Zaki, and head of the Egyptian General Intelligence Service (GIS) Abbas Kamel.
The president praised Egypt's level of cooperation with the French company, according to Spokesman for the Egyptian Presidency Bassam Rady.
Sisi stressed Egypt's aspiration to continue this cooperation, and develop it in the light of Dassault's good reputation, and unique experience in the military aerospace industry.
For his part, Trappier stressed the importance of Egypt's role in strengthening the foundations of stability and security in the Middle East, as well as its prominent international role in counter-terrorism.
He expressed the company's pride in its cooperation with Egypt, and noted the importance of enhancing ties, to provide Egypt with the necessary needs to enhance its military capabilities.
Egypt signed a military cooperation agreement with France in February 2015, under which Paris will supply 24 Rafale fighter aircrafts, one multipurpose FREMM frigate, and the MBDA short/medium-range missiles, in a deal worth 5.2 billion euro.
Until July 2017, Egypt had reportedly received 11 of the Rafale jets promised by France.
The Egyptian Armed Forces stated that the Rafale fighter aircraft represent a qualitative step forward in their ability to spread stability and security in the Middle-East.
Sisi met on Monday with French Minister of Defense Florence Barley on the sidelines of Egypt Defense Expo (EDEX 2018). Rady said the meeting discussed ways to enhance military cooperation between the two countries.
Edited translation from Al-Masry Al-Youm