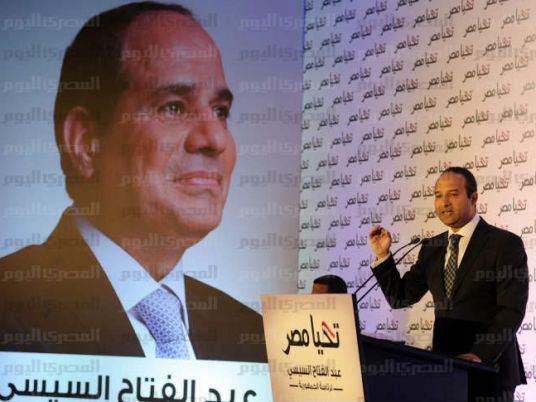 The presidential campaign of former defense minister Abdel Fattah al-Sisi launched its official website late Friday.
The former defense chief who sacked deposed president Mohamed Morsy last year, gaining a sweeping popularity, is thought to have the strongest chances of winning the presidential elections slated for 26 and 27 of this month.
The launching of
sisi2014.net
comes two days after his sole contender, Hamdeen Sabbahi, declared his own platform.
The website included Sisi's resume, news coverage by the campaign, articles on the former general, plus twitter and facebook accounts.
Sisi, writing on the campaign's Twitter and Facebook accounts, said he promises "hardwork," demanding Egyptians to "share responsibility" with him.
The page features what it described as "important notices" about the field marshal. "Sisi rejects any infiltration of the Armed Forces by the Muslim Brotherhood or any other political faction," read the post. "The Field Marshal was famous for his criticism of the brutal treatment of demonstrators during the 25 January revolution. He had stressed the pressing need for changing security forces' mentality concerning the treatment of citizens and the protection of detainees from abuse of torture."
Muslim Brotherhood supporters accuse Sisi of leading a bloody coup against an elected president last July which left hundreds dead in protests and others detained and prosecuted.
Edited translation from Al-Masry Al-Youm