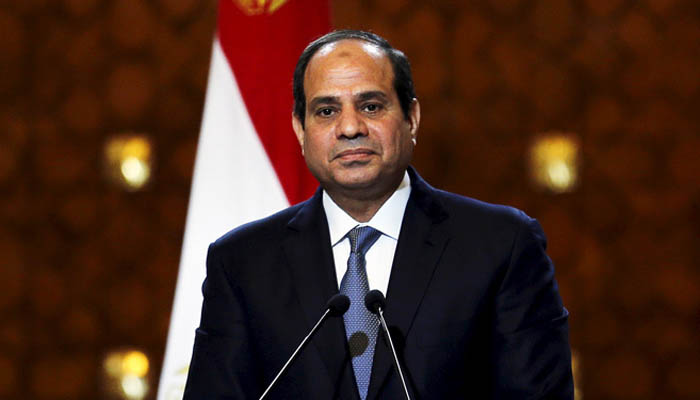 Sohag Governorate is preparing for a visit by President Abdel-Fattah al-Sisi to inaugurate the Sohag National Museum – the largest project in over a quarter of a century to attract tourists to the governorate.
The project previously faltered for years, due to funding issues.
The governorate placed photos of Sisi along the streets of the museum, near the Sports Stadium, in front of the governorate's headquarters, along al-Gamaa Street, and on the Nile's Akhmeem bridge.
Meanwhile, its local authorities assigned teams for cutting and refining trees along the roads where Sisi would pass, and washing and painting the sidewalks.
The route of Sisi's visit was inspected by a delegation from the Protocol Department of the Presidency of the Republic, who estimated the needed security measures according to sources with the local authorities.
The sources added that Sisi will inaugurate Sohag museum after inaugurating Assiut Barrages.
The Prime Minister, Ministers of Defense and Antiquities, Chairman of the Supreme Council of Antiquities, and Sohag Governor will attend the event, said the sources.
Sohag Governor Ayman Abdel Moneim stated that the museum's inauguration reflects the government's keenness to complete projects of Upper Egypt museums. He predicted that the museum will contribute strongly to reviving domestic and international tourism in Sohag.
According to Moneim, a world tourism conference is scheduled to be held in Sohag over several days, during which a documentary film will be broadcast on TV channels to display the region's top attractions. Archaeological areas will be opened at discounted prices for foreigners, and for free to Egyptians during the days of the conference, he said.
The museum consists of two floors. The ground floor includes six exhibition halls describing various kings and important figures in the history of Egypt. It showcases the life of an Egyptian family through history and the role of Egyptian women in their families, particularly in Upper Egypt.
The upper floor exhibits the folk heritage of the governorate, its most important ancient rulers, and its crafts and industries.
It also includes rare archeological pieces from Sohag's wide pharaonic history.
Elham Salah, head of the Museums Sector, added that the two exhibitions were complete with interior and exterior lighting units, in accordance with the latest exhibition techniques.
Construction of the museum began in 1993, and was suspended for financial and engineering reasons.
It was resumed in 2006, and then halted again after the January 25 revolution. The project was taken over by the Armed Forces and resumed in 2016.
At 8,000 square meters, the Sohag National Museum will be one of the largest museums in Upper Egypt.
Edited translation from Al-Masry Al-Youm