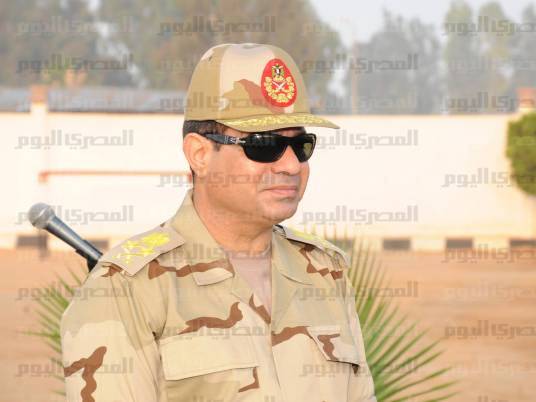 The London-based Al-Hayat newspaper reported Tuesday that Defense Minister Abdel Fattah al-Sisi would resign within days as a prelude for announcing his presidential bid.
The newspaper added the step would be blessed by the armed forces, Arab countries and Washington, particularly the Pentagon, according to the paper.
"[Sisi] has taken the decision in light of the widespread popular demand [for his presidential bid], in addition to signals of Arab consensus on the move, especially by the Gulf," the paper quoted an informed source as saying.
Sisi has also taken the decision after a careful study of expected Western reactions, especially the US, the source added.
The source pointed out that studying the expected US reaction showed that Sisi has become an acting force in the decision-making process of the US. It added the Pentagon in particular welcomed his presidential bid.
"The armed forces support Sisi's bid out of respect to the role their leader has played in preserving their unity, beside adopting policies and procedures to save the country from dangers," said the source.
Sisi will announce running for president as well as his platform in a speech to the people, the source added.
His platform will depend on the slogans of 25 January and 30 June revolutions, according to the source.
Sisi will stress in his speech that no group, party or movement shall be excluded from the political arena except through judicial rulings, said the source.
The platform will be based on frankness regarding the conditions of present-day Egypt in various sectors, the level of services and the risks threatening national security, as well as plans for solving the problems according to a timetable, the source added.
Sisi's platform will also include means of dealing with regional issues as well as means of developing Egypt's relations with international powers and institutions, according to the newspaper.
Al-Hayat newspaper mentioned that Sisi's presidential team would comprise politicians, researchers, academics and public figures in various fields. It added Sisi would not depend on figures of former regimes.
Edited translation from Al-Masry Al-Youm