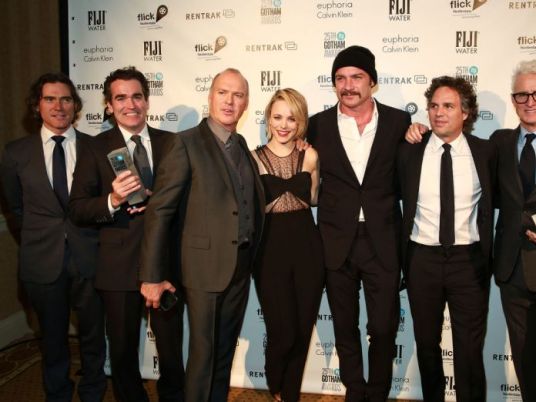 Writers for the films "Spotlight" and "The Big Short" won top Writers Guild Awards on Saturday, boosting the films' chances in the run-up to the Academy Awards, Hollywood's biggest honors.
Josh Singer and Tom McCarthy won for their original screenplay for "Spotlight," a drama based on Boston Globe reporters' investigation into the Catholic Church's handling of priest sex abuse.
Charles Randolph and Adam McKay took the Writers Guild of America's prize for adapted screenplay for "The Big Short," based on Michael Lewis' book about the US housing and credit bubble and subsequent collapse in the mid-2000s.
Both films are nominated for the best picture Oscar, which will be handed out at a gala ceremony in Hollywood on February 28. The writers for both films are also Oscar-nominated.
"Going Clear: Scientology and the Prison of Belief" won for best documentary screenplay.
Among television honors, "Mad Men," which aired its final season, won the Writers Guild award for drama series, while "Veep" took the prize for comedy programs. The group chose "Mr Robot" as best new series.
The Writers Guild, a leading industry group representing film, television, radio and other media writers, presented some of the final awards leading up to the February 28 Academy Awards.
So far this year, industry awards from the Screen Actors Guild, the Producers Guild and last week's Directors Guild have gone to different films.
Actors chose "Spotlight," producers honored "The Big Short" and directors last week threw their support behind "The Revenant," leaving the prospects for Oscar gold wide open.
But Oscar buzz, which is typically the focus of Hollywood's awards season, has been overshadowed since January by claims of a lack of racial diversity in Academy Award voting after there were no nominees of color in the four acting categories for a second straight year.
The controversy led to a revival of the #OscarsSoWhite hashtag on Twitter, while prominent African Americans in the industry — director Spike Lee and actors Will Smith and Jada Pinkett Smith — said they would skip the ceremony.
Following its January nominations, the Academy unveiled changes to membership and voting rules that are meant to bring greater diversity to the organization.