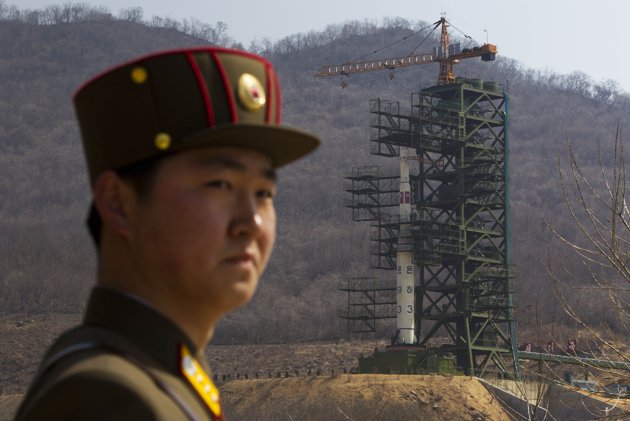 US and allied spy agencies have found no traces of telltale nuclear-related particles from North Korea's February 12 nuclear bomb test, leaving questions about the device's design unresolved, according to officials in the United States, Europe and South Korea.
This lack of scientific evidence suggests that key questions may remain unanswered about the type of fissile material used in the test, which was detected by seismic sensors. It also leaves unaddressed questions about how far the North has advanced in its bomb design.
After the test, the US Air Force Technical Applications Center in Florida dispatched WC-135 "sniffer" airplanes to look for traces of gas residue that could offer clues to the device's design, but those efforts apparently turned up empty, officials said.
An Air Force spokesperson confirmed that the planes were dispatched but said no results from the missions could be released. A US intelligence official said analysis from the tests "was continuing."
Based on seismic evidence, both officials and private experts say there is little doubt that the North Korean device was several times more powerful than those tested in 2006 and 2009.
While estimates of the explosive power of the latest test vary widely, most officials and experts estimate it was at least five kilotons, which is smaller than the power of the atomic bomb the US dropped on Hiroshima in WWII.
In a statement about the test issued through its official news agency, North Korea declared that it had used "a miniaturized and lighter nuclear device with greater explosive force than previously (and which) did not pose any negative impact on the surrounding ecological environment."
One critical question is what kind of fissile material North Korea used in the latest test.
In the two earlier tests, North Korea is believed to have used plutonium as the fissile core of its test devices.
Following international diplomatic pressure, North Korea abandoned plutonium production in 2007. But it later acknowledged that it had built facilities to produce highly enriched uranium, another fissile material that can be used in bombs.
While plutonium is a by-product of nuclear reactors, experts say it can be difficult to build a bomb using the material because specifications have to be precise. Experts say it would be easy for North Korea to make large, if not almost unlimited, quantities of highly enriched uranium.
Absent the trace evidence that might have been collected by sniffer planes — and without leaked information from within the North Korean testing program — US and allied officials said it would be very difficult for outsiders to determine whether the latest test involved a plutonium or uranium core.
Other key issues include precisely how powerful the device was, how it was configured and how far the North Koreans have advanced in miniaturizing a device they might eventually deploy on long-range ballistic missiles that have been under development.
Officials and experts familiar with the capabilities of sniffer planes said that over the years the North Koreans have become increasingly effective at burying and sealing their tests sites to conceal even the faintest scientific traces.
"History would teach us that the North Koreans do like to hide their secret activities and control the message," said David Albright, a private nuclear expert who has visited North Korea and talked with officials about its nuclear program.
A European national security official said the North Koreans were becoming "very effective" at hiding evidence that would offer clues to its nuclear secrets.
A South Korean official knowledgeable about the February 12 test said that most likely the North Koreans dug a test tunnel deeply and sealed it tightly to prevent detection.
"The most plausible point is the structure of the pit was made so that it wasn't a straight line that opened to the outside, but had multiple turns and also many intercepting blockades," he said.
"We need to remember that this is deep in the mountains (where) they tested that are formed of heavy rocks, not out in flat, exposed area," the official said, adding, "We may not find anything."
South Korean, US and European officials all noted that the trace materials sometimes decay rapidly — in the case of highly enriched uranium within a couple of days after an explosion.
Although "there is still some time left, the chances of finding anything is getting lower and lower," the South Korean official said.